Topeka — Kansas Secretary of State Kris Kobach announced Thursday that he is running for governor in the 2018 elections.
Kobach, 51, a Republican, made the announcement during a campaign event in Lenexa. He officially filed paperwork the day before appointing a campaign treasurer.
He is currently serving his second term as secretary of state, where he has gained national notoriety for advocating restrictive voting laws and legislation targeting undocumented immigrants.
Before entering politics, he taught constitutional law at the University of Missouri-Kansas City.
During the George W. Bush administration he worked as a White House fellow, serving as Attorney General John Ashcroft's chief adviser on immigration policy.
Last year he served as an adviser to President Donald Trump during his transition into the White House and was famously photographed going into a meeting with the then president-elect holding a document labeled as a strategic plan for the first 365 days for the Department of Homeland Security.
Kobach was later ordered by a federal judge to hand over that document to attorneys with the American Civil Liberties Union who are suing him in multiple cases challenging the state of Kansas' law requiring people to show proof of U.S. citizenship in order to register to vote.
He now serves as vice chair of a special commission Trump appointed to investigate unsubstantiated allegations of widespread voter fraud in the 2016 presidential election.
Also Wednesday, he sent a letter to incumbent Gov. Sam Brownback, urging him to veto a bill that would exempt publicly owned health care facilities from a mandate that takes effect July 1 to allow people to carry concealed firearms in those facilities.
"HB 2278 in its current form is a broad overreach that bans concealed carry in state hospitals, in community mental health care centers, in local government hospitals, and at KU Med," Kobach wrote. "Further, the bill does not require that these facilities provide any type of adequate alternative security. A sticker on a hospital door does not ensure the safety of people in a hospital."
In a tweet Wednesday criticizing the Legislature's override of Brownback's veto of a landmark tax overhaul bill, Kobach echoed a Trump sentiment by saying "It is time to drain the swamp in Topeka."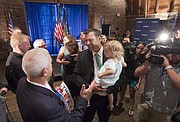 Kobach joins a growing list of people who will run in 2018 to succeed Brownback, who is term limited.
Among those who have filed on the Republican side are former state Rep. Ed O'Malley, of Wichita, and Wichita businessman Willis "Wink" Hartman.
On the Democratic side, former legislator and former Wichita Mayor Carl Brewer and Kansas Agriculture Secretary Joshua Svaty, of Ellsworth, have both filed.
Christopher Rockhold, of Wichita, has filed as a Libertarian candidate. He also ran in the special election in April for the 4th District congressional seat that was vacated when Mike Pompeo was named CIA director.
Richard Kloos, pastor of the Zealous Church in Topeka, has filed as an independent.
More filings for statewide office are expected after the legislative session ends.
In addition to governor and lieutenant governor, Kansas voters will elect a secretary of state, attorney general, state treasurer and insurance commissioner.
Copyright 2018 The Lawrence Journal-World. All rights reserved. This material may not be published, broadcast, rewritten or redistributed. We strive to uphold our values for every story published.