In its first official day, the City Commission race has brought up allegations of false impersonation, illicit partying and property damage.
University of Kansas student Christian Lyche filed for a seat on the commission Thursday. By that evening, the details of a small claims suit filed against him last year had been posted on social media by Rachael Sudlow, wife of incumbent City Commissioner Matthew Herbert.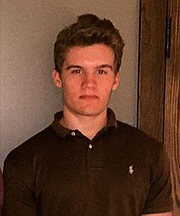 According to a statement included in the court documents, Lyche, who has denied the claims, and another teenager misrepresented themselves as pastors hosting a church retreat when seeking to rent a home on the short-term rental website Airbnb. Instead, the filing alleged he and his friends hosted a keg party for teenagers that caused more than $2,000 in damages.
Herbert's mother-in-law, Lorri Sudlow, owns the rental, which is located in rural Douglas County. Herbert and his wife help her manage the rental, and when reached for comment by the Journal-World, Herbert said that though conflicted, he thought the public should know about the incident.
"We all make dumb mistakes when we're kids, but the depth and the degree to which he vandalized and damaged my property just shows an utter lack of responsibility," Herbert said. "…I kind of went back and forth about whether or not I really wanted to be part of this story, but I just think that it's a bad enough deal that I think people ought to know about it."
Herbert said Airbnb eventually reimbursed them for damages, which included holes in the walls, damage to the yard and driveway, and water damage. Herbert said the house's basement flooded after the sump pump was unplugged in order to plug in a disco ball. Herbert said wallets were left at the house and when they eventually spoke to kids and parents, multiple individuals told them that Lyche was one of the boys who organized the party.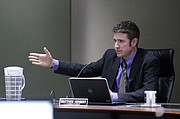 The small claims suit, which was filed against Lyche and another teenager, was dismissed in December after the court was unable to serve Lyche with a summons, according to court documents. A return of service form for the case states that the defendant was avoiding service. It notes that the car has been there on several attempts and that the officer talked to Lyche on the phone but he would not come outside. The case against the other teen was permanently dismissed, but the case against Lyche was dismissed "without prejudice," meaning that it could be brought back to court.
Lyche, now 19, did not return phone calls from the Journal-World Friday, but did email a statement. The statement reads, in part, that he is not the one who threw the party and he is among multiple people who have been wrongfully accused of doing so.
"I have made mistakes in my life and I am not always proud of my actions," Lyche wrote. "As a high school student I attended parties that I should not have. I feel awful for what happened to the Sudlow family and believe nobody should have that happen to them. But I am not the one who threw this party nor am I the first to be accused of it."
On her Facebook page, Rachael Sudlow called Lyche a "dirtbag kid."
In his statement to the Journal-World, Lyche said he was disappointed in the tenor of the campaign already.
"I know very well that politics can become ugly, but false accusations on the first day of the race are more than I expected," Lyche said.
The terms of commissioners Lisa Larsen, Mike Amyx and Herbert are expiring this year. Lyche was the eighth candidate to file for the election, following filings by Herbert, Larsen, Bassem Chahine, Dustin Stumblingbear, Jennifer Ananda, Ken Easthouse and Mike Anderson.
The filing deadline for the City Commission race was Thursday. An Aug. 1 primary will narrow the field to six candidates.
Copyright 2018 The Lawrence Journal-World. All rights reserved. This material may not be published, broadcast, rewritten or redistributed. We strive to uphold our values for every story published.