Player of the Year: Skylar Drum, Lawrence
Named the Sunflower League's forward of the year, Drum highlighted the Lions' offense with a team-high 17 goals and five assists, the program's highest single-season goal total in at least the last 20 years. With plenty of speed and fancy technical skills, Drum led the Lions to a 6-10-1 record in her senior season. She has signed to play at Central Missouri.
Coach of the Year: Drew Ising, Baldwin
The Bulldogs finished with 9-7-1 record, their first winning mark since 2013. Baldwin advanced to the Class 4-1A regional finals with a victory against Tonganoxie.
First team
Sydni Beeley, Free State — Helping the Firebirds to a 6-10-1 record, Beeley was a talented midfielder who was equally strong on offense and defense. Beeley, a junior, received an all-Sunflower League honorable mention.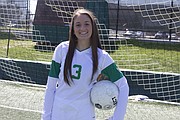 Josie Boyle, Baldwin — Playing center back, Boyle helped the Bulldogs record four shutouts throughout the season. A first-team all-Frontier League selection, the freshman was a major reason the team frustrated opposing offenses.
Taylor Cawley, Baldwin — A versatile player, Cawley moved to center back for her senior season and was a dominant defender. With plenty of speed and strong 1-on-1 skills, Cawley was named first-team All-Frontier League, adding one goal and three assists.
Anna Chieu, Lawrence — Chieu contributed to one of the top offenses in the Sunflower League with her strong play as a midfielder. The sophomore earned first-team all-league recognition, finishing second on the squad in goals.
Caitlin Countryman, Baldwin — The sophomore playmaker contributed six goals and 11 assists to the Bulldogs' offense with her strong footwork. Countryman, who led the team in assists for the second straight season, received second-team all-Frontier League honors.
Emily Heinz, Seabury — In her freshman season, Heinz rewrote the school's record books with her ability to find the back of the net. Heinz, who drew plenty of double teams, scored 23 goals and recorded six assists in 11 games, which included two five-goal performances.
Maya Hodison, Free State — A vital part of the Firebirds' offensive and defensive schemes, Hodison was a dominant midfielder with her speed and ability to knock opposing forwards off of the ball. Hodison, a junior, was a second-team all-Sunflower League selection.
Amanda Martin, Tonganoxie — Leading the Chieftains to a 6-9-1 record, Martin highlighted the offense with seven goals and eight assists. Earning a first-team all-Kaw Valley League nod, the senior midfielder used her strong vision to set up her teammates with strong chances.
Leslie Ostronic, Lawrence — The sophomore defender played a big role in guiding a defense that allowed two goals or less in 10 games this season. Ostronic, who was named first-team all-Sunflower League, was strong with the ball on the back line.
Rachel Schuck, Tonganoxie — Schuck anchored the Chieftains' defense, limiting shots on the team's goalkeeper. The senior defender, who scored one goal, earned first-team all-Kaw Valley League honors.
Honorable mention
Molly Bryant, Free State; Anna Burnett, Baldwin; Sofie Christiansen, Lawrence; Maria Duncan, Lawrence; Riley O'Rourke, Baldwin; Anna Stockman, Tonganoxie; Erin Williams, Tonganoxie.
Copyright 2018 The Lawrence Journal-World. All rights reserved. This material may not be published, broadcast, rewritten or redistributed. We strive to uphold our values for every story published.