Noting that Marquis Young was the last person to be seen with his infant stepdaughter before she was found in a trash compactor, a judge on Monday ordered him to stand trial for attempted murder.
Young currently faces felony charges of attempted first-degree murder and abuse of a child. He appeared in court Tuesday for a preliminary hearing, where witnesses testified about events surrounding the incident.
In the early morning of July 7, 2016, a woman living in the Country Club on 6th Apartments, 2500 W. Sixth St., flagged down Jerrad Jury, telling him she had heard a child inside the complex's shared dumpster, he said.
The dumpster also compacts trash.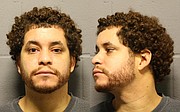 Hoisting his upper body through a door on the dumpster's side, Jury said he moved three or four trash bags out of the way before he saw the infant's arm and leg among the debris.
In one motion, Jury said, he grabbed the child by her limbs and pulled, pausing once she was clear from the trash to look her over.
"She was in pretty bad shape," he said. "She had a really big crater, like a dent in her head, like someone had hit her. There was dried-up blood around her nose and a lot of bites on her."
Once the infant was out of the dumpster, Jury and a friend drove her to Lawrence Memorial Hospital, where they later spoke with police about the unidentified child.
"She had pink earrings on. I remember that very vividly," Jury said. "She never cried, never whimpered, anything like that."
Young's wife, Sheena Young, testified on Tuesday that the two had fought earlier, on July 6.

She said the two put the infant to bed around 8:45 p.m. Sheena Young's 7-year-old son spent the night with his grandmother nearby and her 5-year-old daughter spent the summer with her biological father, witnesses on Tuesday later testified.
Marquis Young acted as a parental figure to all three children, though he is not the biological father of any of them, Sheena Young said.
As the night grew later, both Sheena and Marquis Young drank more, and two friends came over to their apartment, Sheena Young said. Soon the Youngs began arguing.
As the confrontation grew heated, Sheena Young said, she decided to stay the night at her friends' home, leaving Marquis Young along with her child.
Sheena Young said her marital relationship was plagued by domestic abuse, though her husband was generally an adequate caretaker for her children.
Around the time she left, Sheena Young said, the infant had two minor injuries due to recent accidents: one where the child hit her eye and the other where she found her way into a chemical that left a small rash on her chin.
Early the next morning Sheena Young said she texted her mother, Eva Carnahan, who lives nearby and who often watches the child, asking her to wake Marquis and to pick up the child.
Carnahan testified that she found Marquis Young and handed her cellphone to him with Sheena Young on the line.
Sheena Young said her husband assumed that she had returned in the night and had picked up the infant, but she replied that the child wasn't with her and told him to call 911, she said.
Once the child was reported missing, responding officers realized the call was likely connected to the infant found in the complex's dumpster earlier that day.
Lawrence Police Detective Jamie Lawson said he interviewed Marquis Young, who said he recalled speaking with police while he was drunk.
Apparently some time after Marquis Young was left alone he wandered outside and confronted a neighbor loudly about personal issues, Lawson said. Eventually the police were called.
"They had given him a break and told him to go back inside, as he described it," Lawson said.
That morning investigators noticed blood stains on the two shirts Marquis Young was wearing, said Lawrence Police Detective Zach Thomas. Once tested it was discovered the blood matched the infant's DNA profile.
Tanya Burrell, a doctor affiliated with Children's Mercy Hospitals and Clinics in Kansas City, Mo., said she examined the child and found two skull fractures, swelling to her eye and scalp and a multitude of bruises and scratches all over her body.
While she could not specifically say what caused the injuries, Burrell said the fractures and some of the bruises were caused by blunt force trauma. Bruises on the child's chin "are a concern for choking," she added.
Defense Attorney Adam Hall on Tuesday argued that there was no evidence placing Marquis Young near the dumpster, nor was there any evidence showing Marquis Young knew the dumpster was a trash compactor and that placing a child inside would result in anything "beyond mere abandonment," he said.
Countering, Douglas County District Attorney Charles Branson said the DNA evidence, the nature of the child's injuries and testimony placing Marquis Young as the last person in contact with the child constitutes enough evidence to warrant a trial.
Douglas County District Court Judge Paula Martin agreed with Branson, adding that anybody who had lived in the complex for several months would likely know that the dumpster compacted trash.
Martin ordered Marquis Young to stand trial on both felony counts.
Marquis Young is currently being held in the Douglas County Jail in lieu of a $100,000 bond. His criminal trial is scheduled to begin on June 12.
Copyright 2018 The Lawrence Journal-World. All rights reserved. This material may not be published, broadcast, rewritten or redistributed. We strive to uphold our values for every story published.