A new location for the Saturday morning Downtown Lawrence Farmers' Market was among the improvements required if Douglas County's farmers markets are to grow beyond their current 2 percent market share, a report released Wednesday states.
Anthony Flaccavento, president of the Virginia-based local food system consulting firm SCALE Inc., made a two-day visit to Lawrence this week to share findings of the study SCALE conducted from June through November. During that time, SCALE made on-site visits to the local markets, conducted phone and online surveys, interviewed market managers and vendors and scheduled focus group gatherings with customers and those who do not shop at farmers markets. The report can be viewed on the county's website.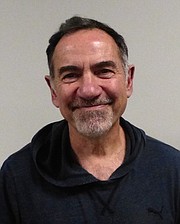 The Douglas County Food Policy Council and the Lawrence-Douglas County Sustainability Department secured a $53,600 federal grant in 2015 to pay for the report.
The report makes recommendations on how to improve farmers markets in the county overall. In addition, it makes recommendations specific to the Saturday downtown market and its associated Tuesday market at the Lawrence Public Library, as well as the Cottin's Hardware Farmers Market, the Clinton Parkway Farmers Market and those in Eudora and Perry. Organizers of the Baldwin City market decided not to participate in the report.
At a Wednesday gathering at the Douglas County Fairgrounds, Flaccavento told farmers, market managers and vendors that the county had a robust base of about 1,800 customers who spent an estimated $810,000 annually at the sites. The Saturday downtown location accounted for $677,000 of that spending. But, he said, that customer base amounted to less than 2 percent of the county's population.
Also concerning, Flaccavento said, was that the growth at county farmers markets had leveled off in the last eight years. The county's farmers markets recorded a 17 percent growth in vendors and 30 percent increase in sales from 2002 to 2007 but have been static since 2008, he said.
The flip side of those numbers was the opportunity to grow by attracting some of the 98 percent of consumers who don't visit farmers markets, Flaccavento said.
One hindrance to growth identified in the report concerning the Saturday Downtown Lawrence Farmers' Market, at 824 New Hampshire St., was its continued viability. The concern stems from redevelopment on the New Hampshire Street corridor, which the report says is making the location "untenable."
Amanda Cook, president of the downtown market board, said the new multistory apartment complexes on New Hampshire did bring potential new customers to the Saturday market's doorstep. Construction contractors and architects went out of their way to work with the market, but there were unavoidable construction-related concerns of dust and noise associated with the building of the apartments next door, as well as the loss of space because of required OSHA setbacks.
Aesthetically, the new development gives the market less of the open-air feel that customers enjoy, Cook said. The new apartments have added to the ongoing problem of having to tow from one to five vehicles parked in the lot each Saturday morning, she said.
An existing problem unrelated to the new development is the absence of needed infrastructure at the downtown markets, Cook said. There is no electricity available beyond the generators and batteries vendors bring and no shelter from the sun, rain or wind, she said. The lack of electricity hinders the recruitment of vendors offering products that need to be refrigerated or frozen, she said — with no shelter during hot summer mornings, fresh leafy vegetables, flowers and vendors wilt under the sun.
A new long-term site with needed infrastructure would provide the stability needed to encourage more local farmers and producers to invest in ventures that would bring more volume and diversity to farmers markets, Cook said.
It was critical for the Tuesday and Saturday markets to remain downtown, Cook said. The downtown markets board has looked at numerous potential locations, including South Park, she said.
Cook and Helen Schnoes, food systems coordinator for the Lawrence-Douglas County Sustainability Department, said a multi-use structure at South Park for market use would dovetail with Lawrence Parks and Recreation's long-term facility plan for an event venue shelter at the park. However, Cook said a weekly farmers market at South Park could disrupt the park's regular rental for community events. Accessible parking for vendors and shoppers would also be a concern, she said.
What she appreciated about the report was that it put that and other issues on the table and provides a structure for addressing them, Cook said.
The report proposes a working group of market managers, vendors, customers and city and county staff be formed in the next two or three years and be charged with finding a new location for the Saturday and Tuesday downtown markets.
Flaccavento said the report, which looked at 23 peer locations to Douglas County, found downtown farmers markets are popular magnets. Sixty percent of those surveyed indicated the markets were what brought them to downtown but that they did shop at other stores while there.
The report found another challenge to growing the county's farmers markets' customer base was the perception that they are not a primary source of groceries but places to acquire seasonal or special items that appeal to "foodies."
"That's fairly typical," Flaccavento said. "The reality is you can find just about everything at a farmers market that you can at a conventional grocery store; not only fresh produce but staples, eggs and meats. It's a matter of getting people to recognize that."
Increasing the markets' volume and diversity of products would help address that concern, but marketing was key to breaking through that perception, Flaccavento said. Marketing recommendations in the report include developing and training "market champions" to spread the word about the markets, starting a "first market of choice" campaign, publishing weekly or bimonthly newsletters that highlight items new to the market, upcoming events and special events, as well as personal stories.
Another marketing element stressed in the report is presentation. Flaccavento said farmers market shoppers expect and want some "earthiness," but vendors should keep such basics in mind as displaying color, being aware of vertical and horizontal elements at their booths and keeping inventory well-stocked.
The release of the report marked the transition of the farmers market improvement effort from information gathering to implementation, Schnoes said. There remains $6,000 in grant money to make improvements proposed in the report, she said.
"We're already planning a stakeholders meeting for February where we will start the conversations about developing a strategic plan to implement the recommendations," she said. "At that (Wednesday) meeting, I think people saw the possibilities of working together on a countywide basis. It was the first time a lot of the vendors and managers had met those from the other markets. There's a lot of energy in how they can work together to get more people to purchase locally produced healthy food."
Contact Douglas County reporter Elvyn Jones
Have a tip or story idea?
---
More stories
Copyright 2018 The Lawrence Journal-World. All rights reserved. This material may not be published, broadcast, rewritten or redistributed. We strive to uphold our values for every story published.