Topeka — The grounds of the Kansas Statehouse may soon be home to a replica of a Dwight Eisenhower statue that currently stands in the U.S. Capitol, a statue that was designed by the late Lawrence artist Jim Brothers.
The Capitol Preservation Committee, a volunteer group appointed to oversee the Statehouse grounds, agreed Thursday to request legislation in 2018 to authorize placement of a statue of the 34th president in the northeast quadrant of the Statehouse grounds, near Eighth and Harrison, in the same area where a miniature replica of the Statue of Liberty now stands.
Brothers' depiction of Eisenhower is based on a photograph taken of him when he was Supreme Allied Commander in World War II. It's a picture taken on June 6, 1944, as he was addressing U.S. troops headed to Normandy for the D-Day invasion.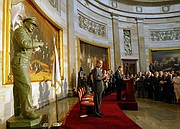 Plans for a statue were included in the original master plan that was drawn up for the capitol complex just before the start of a 13-year renovation project that began in 2001. But lawmakers still need to authorize it in legislation before the project can go forward.
Department of Administration spokesman John Milburn said a group raising private funds for the statue has been negotiating with Brothers' estate to acquire the right to use the statue. He said the agency decided to request that statue because the cast is still in Lawrence, and using that would be more convenient than commissioning a new statue. Brothers died in 2013 at age 72.
If approved, the statue would become at least the fourth tribute to Eisenhower at the Statehouse. A portrait of him hangs on the wall outside the governor's office, and another statue of him stands in the second-floor rotunda. His name is also engraved on a brass marker on a sidewalk that is part of the Statehouse "Walk of Honor."
Copyright 2018 The Lawrence Journal-World. All rights reserved. This material may not be published, broadcast, rewritten or redistributed. We strive to uphold our values for every story published.