Local law enforcement and fire-medical responders have not been tapped to help with Hurricane Harvey's aftermath in an official capacity.
However, at least one Lawrence police officer plans to travel to coastal Texas in a volunteer capacity with a national organization of off-duty first responders.
Officer Kacey Wiltz is the Kansas chapter president of the national nonprofit organization Sheep Dog Impact Assistance — a group of trained emergency and military personnel, a community calling itself "Sheep Dogs," aimed at helping society in times of disaster.
"As first responders we always want to give back," said Wiltz, a resident of Topeka.
Wiltz said she's among 10 Sheep Dog representatives from Topeka, Ottawa and other Kansas cities planning to travel to Texas Friday through Tuesday to join 50 other Sheep Dogs from chapters across the country in recovery efforts.
Their tentative destination is Rockport, a coastal town the hurricane hit Friday night, Wiltz said.
Areas outside the big cities can get "forgotten," Wiltz said. "We try to find those smaller communities."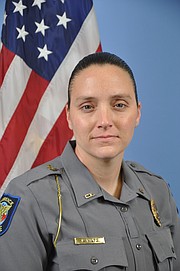 On the ground, Wiltz said Sheep Dog volunteers communicate with local emergency incident commanders to do whatever is needed most.
After the 2011 Joplin tornado, volunteers with the group were asked to help search for bodies, Wiltz said. At other recent disastrous floods in South Carolina, West Virginia and Baton Rouge, Wiltz and other volunteers helped patch roofs and do "muckouts," cleaning water and mud from flooded homes. She said she has also helped after tornadoes in Texas.
The organization's emergency response trailers will have items such as roofing supplies, tarps, wheelbarrows, shovels, bleach wipes and generators, Wiltz said.
Donations to the organization can be made through its national website, sheepdogia.org.
Douglas County Emergency Management director Teri Smith said Monday afternoon that the Kansas Division of Emergency Management had not sent requests for Douglas County assistance in Texas.
The state office, however, had contacted the county in its process of preparing a list of available search and rescue type equipment, Smith said.
Smith said many community members may be wondering how to help.
Douglas County Emergency Management suggests donating cash to a known, trusted organization. Especially with so many people in shelters, Smith said, "stuff isn't what they need."
The organization also suggests volunteering only through a trusted organization, ideally being trained in advance before the next disaster.
One resource to search for trusted organizations is online at nvoad.org.
https://www.facebook.com/dgcoem/photos/a.10150322050636699.340322.204479096698/10154938926126699/
"Our hearts and minds are with those impacted by Hurricane Harvey," Douglas County Emergency Management said in a Facebook post suggesting ways to help. "...The key is to give where it helps the most and not create a burden on the local community that is already stretched thin."
The Journal-World was unable to reach the Lawrence office's American Red Cross representatives Monday. However, the American Red Cross in Kansas Facebook page said the organization sent volunteers to Texas before the hurricane hit and had multiple emergency response vehicles ready to deploy.
The American Red Cross in Kansas accepts monetary donations online at redcross.org/local/kansas. The website also contains information about training to become a volunteer.
---
How to help
The American Red Cross in Kansas is sending help for Hurricane Harvey victims in Texas. Donate online at redcross.org/local/kansas.
Douglas County Emergency Management suggests donating cash to or volunteering through known, trusted organizations. One resource to search for them is nvoad.org.
The Kansas chapter of Sheep Dog Impact Assistance, led by a Lawrence police officer, plans to deploy volunteer first-responders to Texas Friday. The group, a national nonprofit organization, is online at sheepdogia.org.
Contact public safety reporter Sara Shepherd
Have a tip or story idea?
785-832-7187

---

More stories