Faced with the reality that it is running out of room for its downtown operations, the Douglas County government has commissioned a study that could recommend construction of a new building on Massachusetts Street.
Sarah Plinsky, assistant county administrator, said the two buildings on the county's 11th Street campus, the Douglas County Courthouse and the Judicial and Law Enforcement Center, are filled to capacity. The absence of any ground on the campus on which to expand either building adds to the problem, she said.
At the same time, a number of county departments need more space. For example, the Douglas County District Court will have an increased demand for courtroom space with the County Commission's decision to fund in 2018 a new pro tem judge, and the Douglas County District Attorney's Office needs to find room to squeeze in four new employees who will start next year.
Plinsky said the county doesn't want to address coming needs on a case-by-case basis.
"Rather than take a piecemeal approach, we decided to look at our needs as a whole," Plinsky said. "Our goal is to step back and ask departments, 'How have your space needs changed and how much have you grown in the past 10 years and how much do you anticipate growing in the next 10 years?'"
To accomplish that, the county has hired Gould Evans Associates, of Lawrence, to perform the space-needs study at a cost not to exceed $25,000, Plinsky said. The architectural firm is now interviewing departments about their needs and is expected to present its findings in early October to the Douglas County Commission.
The study will look at possible uses of the county-owned property at 1242 Massachusetts St. The old church has not been occupied since Douglas County Public Works moved in April 2015 to its new location at 3755 E. 25th St. Douglas County Administrator Craig Weinaug and Plinsky said the county has no plans to use the building, which needs a new roof and heating and air-conditioning system.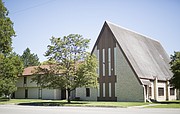 "I would expect that building to come down within the next year," Weinaug said. "Of course, that is something the County Commission would have to authorize."
Gould Evans would study whether there was enough room on the old church's lot for a useful building or, if not, whether the lot should be dedicated for parking, Plinsky said. Should it recommend a new building, Gould Evans would also make recommendations on which county offices should be located there, she said.
Criteria used to make those recommendations include what departments should be located near one another, whether they need the kind of entry security provided at the Judicial and Law Enforcement Center and the need for easy public access because of a high level of visitors, she said.
One factor to be considered in the study is how the city's plans to consolidate the Lawrence Police Department in one location would affect the space it leases on the second floor of the Judicial and Law Enforcement Center, Plinsky said. The Lawrence City Commission has authorized a mill levy increase in the city's 2018 budget that would provide debt financing for $17 million for the first phase of a new police headquarters. However, the city has not hired an architect for the project nor decided where a new police station would be built.
Weinaug said the city has not informed the county of any plans to relocate police department operations from the space it leases from the county. It is a subject that might come up in a planned September joint meeting of the city and county commissions, he said.
The county would not gain that much from a city decision to relocate the police department because the department occupies only 15 percent of the Judicial and Law Enforcement Center, Plinsky said.
A police department move would have a significant impact on parking, Plinsky said. The police department uses about 50 parking spaces in the lot south of the Judicial and Law Enforcement Center, which is often filled during business hours, she said.
Finally, Gould Evans would study more efficient ways to use existing space, Plinsky said.
"One of the things we will look at is, could we get more offices from renovations and remodeling?" she said. "Could we fit in more people if we moved some walls or rearranged offices?"
Copyright 2018 The Lawrence Journal-World. All rights reserved. This material may not be published, broadcast, rewritten or redistributed. We strive to uphold our values for every story published.