After more than a decade of investment, the future of the city's bus service may come down to a yes or no question.
In November, Lawrence voters will be asked whether to renew the .2 percent special sales tax that provides millions of dollars of funding annually for the city's public transit service.
"It is the ultimate question that we have to have answered," said Robert Nugent, transit administrator for the city. "If the sales tax doesn't pass we'll have to dramatically reduce service in order to get our budget in line."
It's projected the transit service will cost nearly $9 million to operate this year, with the special sales tax providing more than 40 percent of that funding. The tax is one of three sales taxes that will expire in 2019 unless voters choose to renew them for another 10 years.
Though some local leaders agree that it's important for the city to provide public transit, the path ahead for transit should the sales tax renewal fail is unclear.
'A vital service'
If the sales tax is renewed, it is projected to generate about $4 million per year for transit operations, helping the city to receive nearly that same amount annually from state and federal transportation grants. Bus fares only account for about 6 percent of transit's revenue.
Riders of the Lawrence transit service, which includes routes coordinated with the University of Kansas bus service, now make more than 3 million trips annually, according to Nugent.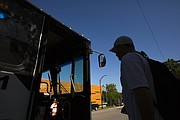 Vice Mayor Stuart Boley expects those numbers to grow. The city has prioritized infill development, and Boley said he thinks public transit will become more important as Lawrence becomes more densely populated.
"I think sustainable transit is a vital service for our community, more so than individual cars," Boley said. "I think it's important for our future. As we increase density, I think transit will be more and more important to people."
Mayor Leslie Soden said she thinks providing some kind of mass transit is an important function for the city to maintain regardless of the outcome of the sales tax renewal. Soden noted that one of the priority initiatives of the commission's strategic plan is to foster economic growth and security for businesses and people. She said for a lot of people, that includes mass transit.
"If we want people to be productive citizens then (the city should) provide them a way to get to and from work, or doctor appointments, or even just to the grocery store or whatever," Soden said. "I think that's important for people to have the ability to still do those basic things that we all may take for granted when we have our own vehicle."
An alternative
Currently, the .55 percent sales tax breaks down as follows: .3 percent for infrastructure, .2 percent for transit and .05 percent for expanded transit service. Under the upcoming sales tax renewal proposal, the .05 percent would be repurposed to fund the city's affordable housing trust fund. If not renewed by Lawrence voters, the taxes will sunset in March 2019.
If the sales tax renewal fails in November, city officials said there is time before it expires to modify the proposed sales tax renewal and include them in a subsequent election.
"Depending on if one or more of them were unsuccessful, we may look at doing it differently," Assistant City Manager Casey Toomay said. "Maybe we would go back and look at a different amount. It would just give us time to consider our options and try to come back with another ballot initiative."
Before the special sales tax was approved in 2008, local funding for transit came from property taxes. Should the renewal fail, the city could go back to using property tax, but Toomay said that would require cuts elsewhere.
"We could find some other local match, but I'm not really sure that one comes to mind that wouldn't require significant service reductions in other areas," Toomay said.
Under the state's new property tax lid, using property taxes instead of sales taxes could also require voter approval if the city's property tax lid is exceeded. Toomay said that will depend on several factors, such as the amount of exempt expenditures and property valuations, that the city doesn't yet have for 2019.
"I think there are too many variables there to say at this point whether it would fall under the lid or not," Toomay said. Given that, she said she doesn't want to speculate.
Soden said if the renewal of the transit sales tax fails, she would consider using property taxes instead, but would make reductions elsewhere as opposed to raising the overall mill levy rate.
"I wouldn't want to raise property taxes at all," Soden said. "We would need to reconfigure the system."
A learning process
Boley said at this point he is hesitant to speculate about how the city should proceed if voters deny the sales tax renewal. If residents vote no, he said his interest would be learning what people have to say about the topic.
"This will be a learning process for the commission and for the community," Boley said. "This is a chance for people to check in with what's going on, what we've done with transit in the last 10 years, and also to talk about where we see transit going in the next 10 years with the possibility of doing a transit hub."
A transit hub is another piece of the puzzle. In May, the City Commission voted unanimously to move forward with another location study for a bus hub. The study started anew earlier this month and will collect public and commissioner input to help identify potential locations for both a primary and secondary bus transfer hub.
Nugent said having a source of local dollars for the federal matching grant is key, and failure of the sales tax renewal would mean declining service unless other local funds were identified.
"We could continue to operate for a while, but we would have to reduce the service," Nugent said. "And if it wouldn't pass the second time, service would virtually go away. There would be no local dollars unless the city would decide to fund it in another way."
Copyright 2018 The Lawrence Journal-World. All rights reserved. This material may not be published, broadcast, rewritten or redistributed. We strive to uphold our values for every story published.