Even with overcast skies, eclipse observers in Lawrence generally tried to maintain a sunny attitude Monday as the big event — or lack of it — came and went. No doubt thousands of safety glasses went unused that afternoon as clouds obscured our view of the eclipse in Lawrence, which was originally projected to experience 99.3 percent coverage of the sun — not a total eclipse, but pretty close to it.
The event wasn't a total loss for some Lawrence residents, however. Both here in Douglas County and along the nearby path of totality, Lawrencians seemed to make the most of Monday's eclipse.
Disappointed, but not done in, at Shenk Sports Complex
At least 1,000 people gathered to watch the eclipse Monday morning at Shenk Sports Complex near the intersection of Iowa Street and Clinton Parkway.
Photo Gallery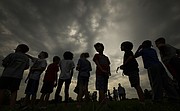 Solar eclipse in Lawrence
Clouds kept many in Lawrence from seeing the solar eclipse, but events at local schools and the University of Kansas went on as scheduled. Submit your own photos at ljworld.com/eclipse.
The event, hosted by the University of Kansas department of physics and astronomy and the KU Natural History Museum, was probably Lawrence's largest assembly of eclipse watchers that day. At Shenk, as with the rest of the city, heavy clouds largely obscured the eclipse. But it wasn't a total letdown, said Jen Humphrey, director of external affairs for the KU Natural History Museum.
"Seeing such a broad swath of Lawrence and KU communities together, just coming together for a common experience, was really wonderful, actually," said Humphrey, who said she spent 8 months planning for the event.
"I am of course a little disappointed that the cloud cover made it so we didn't see the eclipse the way some other people may have experienced it," she said. "But it got dark, the cicadas and the other insects began to chirp, the streetlights came on and you could tell that people were still enjoying the eclipse together because they got quieter, too, and were maybe even a little bit awed by the fact that these (things) occurred."
As for the 17,000 eclipse glasses purchased by KU for distribution across Lawrence, including local schools and the KU campus, Humphrey said efforts were made to collect as many as possible for recycling. The glasses, she said, will be distributed to developing countries — where citizens may not be able to afford special eyewear otherwise — for future eclipses.

(The Shenk crowd, it turns out, didn't really need them Monday.)
"And for a lot of people, they're going to keep them," Humphrey said of the glasses. "It's a reminder of that shared experience."
'It wasn't a total bust' for unlucky schoolkids
At Sunflower Elementary School, students watched the skies for signs of the majestic eclipse they'd learned about in class. Clouds remained overhead throughout the early afternoon, but some kids and staff — the entire building was outfitted with their own special eclipse glasses — did report seeing at least a small sliver of partial eclipse before 1 p.m. that day.
Evan Zelvy spent about 20 minutes outside with his third-grade class that afternoon outside the school. While disappointed by the less-than-ideal weather conditions, Evan also said he knew beforehand that things might not pan out.
"I was a little nervous about it, so I tried not to get too excited about it," said Evan, who also said he felt the temperature drop slightly after 1 p.m.
The sky did darken over Sunflower Elementary for a period, as streetlights flickered on around the eclipse's peak at 1:06 p.m. The windows of the school appeared to glow in yellow light as twilight descended upon the southwest Lawrence neighborhood, cicadas busily humming away as if it were evening and not early afternoon.
Lisa Melton, a fifth-grade teacher at the school, said one student even reported seeing a bat fly overhead. She and other teachers at the school also livestreamed NASA's coverage of the eclipse across the country, she said, allowing kids to see some pretty exciting astronomical phenomena. (Just not in person.)
Even with lackluster conditions in Lawrence, Melton said, the day was still a worthwhile educational opportunity.
"It wasn't a total bust," Melton said after taking her students back inside. "I'm going to be able to go home, like the kids will, and say that I saw some things that I hadn't seen before."
Third-grade teacher Becky Stiles capped off the disappointing afternoon by reminding her students to watch the evening news for more images of the eclipse across the country. Not everyone missed out, she told her students, and we should be happy for them.
After all, another total eclipse will be visible from Kansas in 2045, Stiles said.
"You know what? It's OK," Stiles told the class. "And the good news is, everybody's safe."
Cloudy skies meant staff supervising the eclipse viewing didn't have to worry much about students damaging their eyes. With glasses or without, there wasn't a whole lot of sun to stare at.
Making a day of it
While Lawrence Public Schools students tried to see the silver lining in a disappointing day, Bishop Seabury Academy science chair Christopher Bryan had no complaints returning to Lawrence late Monday afternoon.
Earlier that day, Bryan, along with the small private school's entire student body, boarded a bus to tiny Powhattan. The uncle of one Bishop Seabury student offered up his farm, just south of Hiawatha, as a viewing spot for his niece and her 200-some classmates.
Conditions there were rainy and overcast, he said, right up to the point of totality.
"Right as the moment was about to happen, there was a break in the clouds, and we were really able to see the moon passing in front of the sun," Bryan said. "It was a magical moment."
Students, he said, erupted into spontaneous cheers and applause — all for science. From their location, Bryan said, his students were even able to see the corona of the sun.
Parents, he said, tagged along, and kids who normally don't spend time with their siblings during school hours, he added, stood together and watched in awe.
The whole thing lasted less than two minutes, Bryan said, but was memorable enough that he'd "love" to do something similar in future eclipses with students.
"There was really a sense of family, and also a sense of shared humanity," Bryan said of the experience. "It's so much more than a scientific event — it's something that connects us to all people at all times."
'It was worth it'
After months of planning, Rick Heschmeyer woke up Monday morning to the sound of rain (and thunder, around 7 a.m.) pouring outside his pop-up camper along the eclipse's path of totality in St. Joseph, Mo.
Things were looking altogether pretty bad for Heschmeyer, his family and the thousands of people who had trekked far and wide — from Lawrence, in Heschmeyer's case, or from as far away as Australia — to attend a public watch party at St. Joe's Rosecrans Memorial Airport.
Lots of people took off shortly before the eclipse's anticipated peak, he said, but those who stayed behind witnessed 10 to 15 seconds of "awesome" totality.
The clouds parted just in time, Heschmeyer said, giving the crowd a short but memorable glimpse at the sun's corona around 1:06 p.m.
"It was worth all the frustration and everything else with the rain this morning," said Heschmeyer, a longtime amateur astronomer and president of the Astronomy Associates of Lawrence. "It was worth it."
Those who missed out on the eclipse, he added, will soon have a chance to hear stories from AAL members who traveled outside Lawrence for the big event. The group meets at 7 p.m. Aug. 27, at the Baker Wetlands Discovery Center, and everyone's welcome to attend, listen and share their own eclipse experiences.
Copyright 2018 The Lawrence Journal-World. All rights reserved. This material may not be published, broadcast, rewritten or redistributed. We strive to uphold our values for every story published.