Superintendent Kyle Hayden on Friday announced the appointment of Darcy Kraus as the Lawrence school district's director of elementary school support.
Kraus, who currently serves as principal of Lawrence's Sunset Hill Elementary School, will transfer to her new position beginning with the 2017-2018 school year, pending school board approval.
"Darcy has proven herself a highly effective leader who is well-respected by peers. I have the utmost confidence in her skills and believe she is the right person at the right time to help us move forward," Hayden said in a news release. "Her enthusiasm and passion for students consistently shines through as does her ability to build solid relationships with everyone she meets."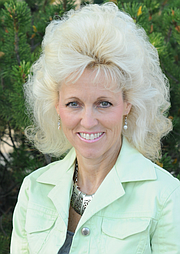 Hayden created the new director-level position as part of a reorganization of the district's leadership structure "to enhance support for school building leaders and professional teaching staff," according to the district's news release. As part of the reorganization, Hayden will eliminate the role currently filled by assistant superintendent of teaching and learning Angelique Nedved, who plans to resign this summer after 13 years in the Lawrence district.
The district's teaching and learning department will be combined with the innovation and technology department under the leadership of Jerri Kemble, the district's assistant superintendent of innovation and technology, the news release said. Directors of school support, including Kraus, will work with the district's instructional coaching team "to provide leadership and guidance for the continued professional development of principals and teachers," according to the district.
"I have been blessed to work with an unparalleled staff at Sunset Hill. One that graciously allowed me to become part of an amazing building culture steeped in robust instruction and focused on the success of every child," Kraus said in the news release. "I also have had the privilege of belonging to a group of dynamic, passionate principals from across the district."
Kraus, who has served as principal of Sunset Hill since 2013, holds a bachelor's degree from Kansas State University and a master's degree from Emporia State University.
Before joining Lawrence Public Schools, Kraus worked for 20 years as an elementary language arts consulting teacher, Title I reading liaison and instructional coach, seventh-grade reading teacher, and a first- and second-grade teacher in Topeka Public Schools. She previously served as a reading specialist/Title I coordinator for four years in Poplar Grove, Ill.
The search for Kraus' replacement at Sunset Hill will begin immediately, according to the district's news release. The school serves 350 students in kindergarten through fifth grade.
Copyright 2018 The Lawrence Journal-World. All rights reserved. This material may not be published, broadcast, rewritten or redistributed. We strive to uphold our values for every story published.