Topeka — The owners of St. Francis Health Center in Topeka said Tuesday that they will not announce the closure of the facility for at least two weeks while they continue negotiating with potential buyers. But even if no buyer is found, Denver-based SCL Health said it would not continue to operate the financially troubled hospital beyond this summer.
Meanwhile, discussions about the fate of approximately $250 million in charitable assets of the hospital also likely will be discussed during the two-week window.
"This is one of the most difficult decisions our organization has ever faced," SCL Health president and CEO Mike Slubowski said in a news release Tuesday. "St. Francis Health is not sustainable in today's dramatically changing health care environment. But that doesn't diminish the legacy of more than a century of service to this community or prevent another modified role in the future."
That statement was issued just a few hours after St. Francis officials said Slubowski had committed to continuing negotiations to find a buyer for the hospital for at least another two weeks. Earlier, hospital officials had said they expected SCL to make an announcement Tuesday about plans to close St. Francis.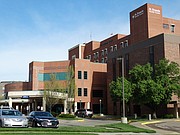 Dr. Jim Owen, who chairs the hospital's radiology department and serves on its board of directors, said SCL Health, made that commitment after numerous meetings in recent days with officials from the city of Topeka, the Greater Topeka Chamber of Commerce and Gov. Sam Brownback's office, among others.
"My understanding from what I heard this (Tuesday) morning is that Slubowski is committing to keeping negotiations open for another two weeks, and they'll consider offers that any people or organizations want to make, but they need to have a commitment from someone in the next two weeks," Owen said.
Owen said he was aware of "at least one, and possibly two or three" organizations that are still expressing interest in buying the hospital.
In his press release, Slubowski said the state's refusal to expand Medicaid under the Affordable Care Act has been one of many factors making St. Francis financially unsustainable.
"St. Francis has struggled financially, losing $117 million over the last five years," he said. "Physician clinics lost $31 million in 2016 alone. All of this has come as the number of patients has dramatically decreased. Additionally, without expanded Medicaid coverage and other challenges related to public programs, St. Francis experienced added pressure. Uncompensated care and charity care more than doubled from 2012 to 2016."
Officials within St. Francis, however, said issues at St. Francis extend far beyond the lack of Medicaid expansion.
Both Owen and Dr. Randall McAllister, who heads the hospital's emergency department, said Tuesday that time will run out quickly for St. Francis under any circumstances if it cannot renew essential contracts for cardiology and ER services before June 30.
Both doctors confirmed Tuesday that the contract with an outside cardiology group was set to expire April 30 but has been extended to June 30.
The contract for ER services, which have been provided by the medical staffing firm TeamHealth since 2010, officially expired in September. Members of that team have been working without a contract since then, continuing the terms of the old contract. But McAllister said TeamHealth decided in April that it would not continue that arrangement beyond June 30.
"So far, SCL has been unwilling to negotiate a new contract," Owen said. "We're having a hard time understanding what (the issue) is. I can understand them not wanting to get into a long-term contract that they would encumber a buyer with. But at the same time, you're not just selling a building. You're selling an enterprise ... To me, you maintain every contract that you've got, and you certainly maintain cardiology and ER because those two entities, I'm guessing are 60-plus percent of admissions."
St. Francis is a 378-bed hospital that was founded in 1909 by the Sisters of Charity of Leavenworth, an organization that later became SCL Health. St. Francis employs more than 1,600 people in the Topeka area. It also operates a number of external clinics, including family practice and walk-in "urgent care" operations.
It is one of three major hospitals in Topeka. St. Francis sits just north of Stormont-Vail Hospital, a 586-bed hospital. Topeka is also home to a veterans hospital, the Colmery-O'Neil VA Medical Center.
Brownback and Attorney General Derek Schmidt became directly involved in talks over St. Francis last week when it appeared that closure of the hospital was imminent.
At issue for the state if the hospital closes is what happens to the $248.5 million in charitable assets of the nonprofit hospital — money used to offset the cost of providing uncompensated care to the poor and uninsured — money that state officials say must remain in Kansas under any circumstances but which hospital officials say may already have been transferred to the parent company in Denver.
That's the amount of money that was listed last year on St. Francis' 2015 tax return as "intercompany receivables."
"St. Francis has benefited from its status as a Kansas charity for many years, and it is important to make certain that such charitable assets are properly managed and remain in Kansas," Brownback said in a statement on Friday. "The charitable assets should stay here for the benefit of Kansans, to serve their stated mission of improving the health of those who are poor and vulnerable. Northeast Kansas needs the medical services St. Francis provides."
A spokesman for SCL Health in Denver did not immediately respond to questions about those assets.
Brownback said in a statement Tuesday that he intends to hold SCL Health to its commitment to continue negotiating for someone to buy St. Francis.
"As I have said previously, St. Francis is an important local and regional health care provider and a significant Kansas charitable asset that has long served its stated mission of improving the health of those who are poor and vulnerable," Brownback said.
Copyright 2018 The Lawrence Journal-World. All rights reserved. This material may not be published, broadcast, rewritten or redistributed. We strive to uphold our values for every story published.