Topeka — Kansas lawmakers in both chambers were told as they left the Statehouse on Friday for a three-week break to get plenty of rest because they will have to work virtually nonstop, including weekends, when they return May 1 for the final three weeks of the session.
Both Senate President Susan Wagle of Wichita and House Speaker Ron Ryckman of Olathe said that Friday in separate talks with the Statehouse press corps. And while they probably won't work every Saturday and Sunday of the wrap-up session — Mothers Day falls on Sunday, May 14 this year, and lawmakers are usually loath to work that day — they have left a mountain of unfinished business to address when they return.
"It's daunting," Wagle said. Even more daunting, she said, than the 2015 legislative session that lasted a record 114 days as lawmakers struggled to address a budget crisis that year.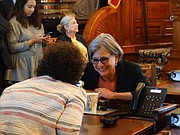 "It is, but we're focused. We're very focused on what we have to do," she said.
But House Democratic Leader Jim Ward of Wichita was less optimistic.
"When we walked in the door in January, we had four crises," he said. "We had a structurally unbalanced budget to the tune of about $900 million a year; we had a fundamentally unfair tax system that failed to provide the revenue for essential services; we had a school finance system that was so underfunded it was declared unconstitutional by our Supreme Court; and our health care system was in crisis.
"Any one of those is a full session's worth of work. None of them is addressed," he added.
Lawmakers haven't completely ignored those issues, however. In fact, two of them — a $1 billion tax package and a Medicaid expansion bill — passed with large majorities in both chamber, only to be vetoed by Republican Gov. Sam Brownback. In both cases, lawmakers were unable to override those vetoes.
"While it's easy to kick the Republican leadership and the Legislature, the real obstacle has been the governor," Ward said. "He's been an obstacle."
But Wagle and Ryckman both declined to blame Brownback for the lack of progress so far.
"That's a normal part of the process. He's elected and he has that right," Wagle said.
"There are three branches of government," Ryckman said. "The bodies don't always agree. We had a lot of discussions last year with the Supreme Court being one, and the governor and this body. That's part of the process."
Another factor influence the session has been the results of the 2016 election, when Kansas voters elected a large number of new Democrats and moderate Republicans, sweeping out more conservative Republicans who had been allies with Brownback.
Many of them campaigned on promises to support reversing Brownback's policies on taxes, school funding and Medicaid expansion, policies that Brownback, for the most part, has not been willing to give up.
Here's a brief summary of where each of the major issues stands as lawmakers go into their three-week recess.
Taxes
In February, both the House and Senate passed a tax bill that would have repealed many of the signature income tax cuts that Brownback championed in 2012, including the so-called "LLC loophole" that exempts more than 330,000 farmers and small business owners from paying any state income tax on their nonwage business income.
That bill initially passed the House, 76-48, on Feb. 16. The Senate took up the bill the very next day and passed it, 22-18, sending it to Brownback's desk. Brownback vetoed it the following week, on Feb. 22.
The House voted immediately to override the veto with 85 votes, one more than the two-thirds majority needed. But the override received only 24 votes in the Senate, three short of the required supermajority.
Since then, House leaders have said they are waiting on the Senate to produce either a bill the governor would sign or one that can get the 27 votes needed to override his veto.
The Senate failed to do so on Thursday of last week when a so-called "flat tax" bill that conservatives had wanted received only three votes.
Despite that vote, however, GOP leaders noted one significant thing happened. Brownback had said publicly that he would sign such a bill, even though it also included a repeal of the LLC exemption.
"I think he's become much more negotiable on a tax package in the last week, so we're hopeful," Wagle said Friday.
Brownback himself said in a separate news conference Friday that he wasn't anxious to repeal the LLC exemption, but that he would consider it in exchange for another kind of what he called a "pro-growth" tax policy such as a flat tax.
"I'd rather have the LLC exemption," he said, claiming it has spurred more small business creation and employment. "What I'm saying is there are other pro-growth concepts in your tax policy, and one of the things that I think we need to have long-term for the state of Kansas is as much pro-growth opportunity as possible."
It was clear from Thursday's action in the Senate, though, that the concept of a flat tax, in which all taxpayers would pay the same rate on all taxable income, does not have support from even a simple majority in the Senate, and some lawmakers have said it has even less in the House.
Two of the key votes in the Senate are Wagle and Majority Leader Jim Denning, R-Overland Park, both of whom opposed the original bill in February, saying at the time that they objected to provisions raising individual tax rates retroactively to Jan. 1, 2017.
Both the House and Senate have two other versions of that bill pending in their respective tax committees: one that is identical to the bill Brownback vetoed, and another that is identical except for the retroactive provision.
One scenario some lawmakers have suggested is that one of those bills will come out of either the House or Senate tax committee soon after lawmakers return.
"We'll continue to see what (can get) 21 votes in the Senate (a simple majority) or 27 (a two-thirds majority). Those are things we'll continue to look for," Ryckman said.
State budget
On Thursday last week, both the House and Senate passed a "rescission" bill that closes a projected shortfall in the current fiscal year's budget of roughly $290 million, mainly by borrowing money from an idle funds investment account, a loan that will be repaid over the next seven years.
That bill is now on its way to Brownback's desk, but he would not say one way or the other Friday whether he will sign it.
Meanwhile, only the Senate has passed a budget plan for the next two years, one that will be subject to change when lawmakers return, after state budget officials issue new, updated revenue estimates.
The House Appropriations Committee has advanced a similar bill, but it has not been debated by the full chamber.
Both bills are based largely on the budget plan Brownback submitted to lawmakers in January. One of the key issues, however, will be whether the state will make full payments into the Kansas Public Employees Retirement System.
Brownback's budget plan called for not making the final quarterly payment of around $100 million in each of the next two years, something that majorities in both the House and Senate have said they oppose. But whether the state will be able to afford those payments will depend on what kind of tax package legislators can pass.
The Senate's bill does not include that funding, a last-minute agreement that moderate Republicans and Democrats agreed to make in order to advance the bill, but one they said they will reconsider during the wrap-up session.
Both bills also contain partial restoration of cuts that Brownback ordered last year to the University of Kansas and Kansas State University, cuts that were disproportionately higher for those two schools than for other Regents universities. The bills also contain more partial restoration for cuts that were made to all universities in the second year of the budget.
School finance
So far, the House is the only chamber that has worked on putting together a new funding formula to replace the one lawmakers repealed in 2015.
But the committee has not sent that bill to the full House because leaders say they want their newly-hired outside attorney, former Republican Sen. Jeff King, to review it and advise them on whether it would meet the demands of the Kansas Supreme Court.
That bill would establish a formula much like the one that was repealed two years ago and add about $150 million in new funding. House leaders have said it's part of a five-year plan in which the Legislature would add $150 million each year, for a total of $750 million.
Although the Senate has not yet begun work on its own version of a school funding plan, allowing the House to take the lead instead, Wagle said Friday that senators have not been ignoring the issue.
"We plan on working on it during the break," she said. "We are working closely with the State Board of Education, and our goal, as the court has told us, is to lift up the at-risk students who are right now not succeeding."
Medicaid expansion
After the House failed on Monday, April 3, to override Brownback's veto of a Medicaid expansion bill that would have extended health coverage to an estimated 150,000 lower-income Kansans, Republican leaders have said they want to move on to other issues.
"We're going to focus on school finance, taxes and budget," Ryckman said. "I'm sure there are other issues out there that will still come up."
Ward, however, said he has not given up on Medicaid expansion.
"We have tools in the toolbox to bring it back up," he said. "The goal is to make sure we have 84-85 solid votes."
He suggested the bill Brownback vetoed could be modified to win enough votes to override another veto.
"Even though it is illegal to use federal funds in any shape or form for the performance of abortion, put that specific language in there so you take that red herring the governor threw in there out, off the table," Ward said. "Perhaps we talk about some work requirements based on the Indiana model and some other places that are reasonable, recognizing that people who use Medicaid are usually sick and disabled, so work is less likely. But things like that to attract some of our more extreme conservatives to do the right thing for their hospitals in their community."
Copyright 2018 The Lawrence Journal-World. All rights reserved. This material may not be published, broadcast, rewritten or redistributed. We strive to uphold our values for every story published.