In a little over a week, paper ballots will be sent to homes across the Lawrence school district asking voters to approve a proposed $87 million bond issue for the district's secondary schools.
But voters shouldn't necessarily assume that $87 million is all that school district officials will spend on the projects, which primarily would be focused on improving secondary schools.
The May 2 mail-in election — that's the deadline for ballots to be returned in the mail to the county clerk's office — arrives on the heels of a $92.5 million bond issue that was passed in 2013. District voters learned from that bond issue — which was mostly used to improve elementary schools — that the $92.5 million estimate wasn't a hard cap. District officials couldn't provide a precise accounting of costs for that bond issue this week, but costs are estimated to be around $100 million currently, and a couple of construction projects are still underway.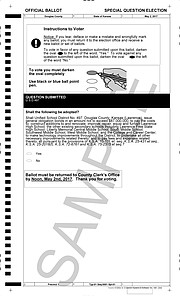 The rising price tag on the 2013 bond issue can be attributed to rising construction costs in the region and district decisions to expand the scope of some of the projects. Tony Barron, the district's executive director of facilities and operations, said the rising costs weren't due to a mismanagement of funds, and he said district leaders will handle the proposed bond issue with the same attention and care.
"We honored the budget as the bond, and we added scope to the projects, and we paid for it out of our capital outlay fund," Barron said.
The capital outlay fund is a separate fund within the school district's budget. It is supported by property taxes that are separate and in addition to the property taxes used to support the bond issue. Traditionally, a major function of the capital outlay fund has been to pay for upkeep and improvements to existing buildings.
Halfway through the renovations in August 2015, the Journal-World reported that rising construction costs had called for an additional $7.3 million from the district's general budget to supplement the bond budget and pick up additional projects. Those additional funds were taken from capital outlay funds, which Barron said amount to approximately $10 million to $12 million annually, that can be used for upkeep and improvement of district buildings.
About $1.5 million of that $7.3 million figure went toward furniture for many of the 2013 bond issue's new spaces. The outlay funds also bolstered additional projects that weren't originally included in the bond plan but were ultimately deemed necessary. One such example: replacement of the water-damaged gymnasium floor at Cordley Elementary School, which was eventually done by the construction crews already on site for bond improvements at the school, Barron said.
The Lawrence school district is obligated to remain within its budget by state statute, Barron said.
"If we're over budget, we have to find a way to (manage) those costs to get us within budget," he said.
Part of that, he said, is setting aside funds for unforeseen problems like the gym floor at Cordley, which he said had been damaged by a "leaky, faulty" roof. In cases like these, the district works with its construction manager and architect to prioritize projects before presenting an enclosure to the school board with an outline of the revised plan and its budget. Then, Barron said, "we move forward with it."
"It's a process that we felt like we were very successful with on this 2013 project, and it's a process that we will continue to use moving forward," he said. "If there are additional projects that we want to get out of that budget, we will supplement with capital outlay dollars and add scope to the project."
The newest bond issue, if approved by voters, would entail $87 million in improvements across Lawrence's secondary schools. More than half, $50.8 million, would go toward improvements at the aging Lawrence High School.
The 1950s-era building would receive renovations to the natatorium, weight room, fine arts spaces, annex classrooms, career and technical education areas, restrooms and locker rooms, among other improvements. The school's library would also be transformed into a modernized media center.
Also on the district's wish list are several enlarged classrooms — a mere 29 percent of LHS classrooms meet current standards that call for 24 square feet per student, according to numbers shared by the district. The 2017 bond would add a total of 27,000 square feet to the school.
Free State High School would receive $15.2 million in improvements, gaining an additional 18,000 square feet that district leaders have said will better accommodate the school's growing enrollment. The projects at Lawrence's four middle schools would cost less than $10 million each, and would include renovated restrooms and locker rooms, upgraded infrastructure and building systems, flexible collaboration spaces for students, and modernized library media centers.
The remaining funds would go toward establishing a space at the Lawrence College and Career Center for the district's culinary arts program (about $600,000, including other small projects), in addition to approximately $200,000 set aside for technology improvements across the district.
If voters decide to approve the new bond issue next month, they'll likely see a mill levy increase of 2.4 mills, district officials estimate. That equates to an approximate $55 tax increase per year for the owner of a $200,000 home.
When the last bond issue passed in 2013, district leaders aimed to transform Lawrence's elementary schools into what Superintendent Kyle Hayden has described as "21st century learning environments." Now, Barron said, it's the district's job to ensure the students who benefited from the 2013 projects have the same opportunities as they age and move through the school system.
The first of those 2013 bond projects, at Langston Hughes Elementary School, were completed in the fall of 2014, Barron said.
"This 2013 bond was focused on elementary schools primarily, and we're trying to create the same space for kids going from the elementary to secondary schools," Barron said. "Just making sure we're providing them with the same spaces they've been in over the last two years."
The 2017 bond projects, if approved by Lawrence voters, would likely be completed by the end of 2019. Lawrence High School, because of the scope of its proposed improvements, wouldn't be completed until August 2021, Barron said.
Election timeline
Registered voters in the Lawrence school district will start receiving ballots in the mail as early as April 12, according to information released by the Douglas County Clerk's office.
Voters have until noon on May 2 to return the ballots. Voters can mail the ballot to the address provided, or can take the ballot to one of four designated locations: County Clerk's office, 1100 Massachusetts Street; the all-hours drop box on the south side of the County Courthouse at 11th and Massachusetts streets; the satellite office of the Douglas County Treasurer in the Dillons store at 3000 W. Sixth Street; the satellite office of the Douglas County Treasurer at 2000 W. 31st Street near the Home Depot/Best Buy shopping center.
Copyright 2018 The Lawrence Journal-World. All rights reserved. This material may not be published, broadcast, rewritten or redistributed. We strive to uphold our values for every story published.