Topeka — Four of the five living former governors of Kansas joined forces Tuesday urging voters to retain all five Kansas Supreme Court justices who are on the November ballot, calling the organized efforts to remove them from office part of a partisan effort to take control of the courts.
Former Republican Govs. Bill Graves and Mike Hayden are touring the state this week with former Democratic Govs. Kathleen Sebelius and John Carlin in a campaign to retain not just the Supreme Court justices, but also seven judges on the Kansas Court of Appeals and all District Court judges who stand for retention this year.
"I'm here because I simply don't see that this is broken, it doesn't need fixed, and I believe Kansans ought to be made aware of how important, and how blessed they are to have a system that has served them so well," Graves said during an event Tuesday in Topeka.
Under a constitutional provision adopted in 1958, governors appoint Supreme Court justices from a list of nominees sent to them from a nonpartisan nominating commission. Once appointed, they stand for retention in the next statewide general election, and then every six years thereafter.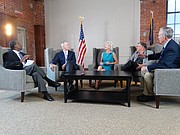 Since that provision was adopted, no Supreme Court justice has ever not been retained. But this year, there are organized efforts by conservative groups and others urging voters to reject four of the justices on the ballot: Chief Justice Lawton Nuss, as well as Associate Justices Carol Beier, Marla Luckert and Dan Biles.
The fifth justice on the ballot, Caleb Stegall, was appointed by current Gov. Sam Brownback and is not being targeted by those groups for removal.
Kansans for Life, a statewide anti-abortion group, held a separate event later Tuesday in Topeka, urging voters to "Reject all but Stegall."
The group is also urging people to vote no on four of the seven Court of Appeals judges up for retention this year. The four being targeted all voted to uphold a lower court ruling that temporarily blocked a new law from taking effect that bans one commonly used abortion procedure.
But the main source of opposition to the four Supreme Court justices is their decision in 2013 to vacate the death sentences of Jonathan and Reginald Carr, two brothers convicted of a gruesome mass murder in Wichita in December 2000 in which four people were killed and one other person was seriously injured.
Although the court upheld their convictions, it overturned their death sentences on procedural grounds and sent the case back to Sedgwick County District Court for resentencing. The U.S. Supreme Court, however, later reversed their decision and upheld their death sentences.
Kansans for Justice, a group formed by relatives of the Carr brothers' victims, is one of the groups targeting the four justices who voted with the majority to vacate their death sentences.
"We are confident if any of these four governors were treated as poorly as these four Kansas Supreme Court justices treated us, the governors would be less hostile to our cause," Toni Porter, a member of Kansans for Justice, said in a statement Tuesday.
The governors, however, treaded carefully around the issue of the victims and their families, saying they understood the grief those families have experienced.
"I don't think anybody's suggesting that they shouldn't be allowed to campaign," Sebelius said. "I think what we're saying is that information going to the Kansas voters right now may not be accurate, may not be the best informed. We are trying to be defenders of the process itself."
"Our hearts go out to the victims and their families," Hayden said. "What we're saying is, you can't judge the court on a single case because they've ruled on 1,100 since the current Chief Justice came in. You have to take the whole body of work."
Carlin, the earliest former governor of the group, said the option of not retaining a judge or justice was intended, "for extraordinary reasons, on those rare occasions when something must be done to not retain a particular justice."
"This is going after five who are up, based primarily on one case which needs to be clarified for the public in terms of the facts," Carlin said. "But if we evolved into a system where we routinely threw out (justices), that's a dramatically different situation. You would have fewer quality lawyers have any interest in getting into that situation."
Carlin was governor from 1979 to 1987. During his two terms, he vetoed a number of death penalty bills.
He was succeeded by Hayden, who served one term from 1987 to 1991. He had campaigned on a promise to sign a death penalty bill, but the same Legislature that had passed such bills when Carlin was governor never sent one to Hayden.
He, in turn, was succeeded by Democrat Joan Finney, a Catholic who opposed both abortion and the death penalty. In her final year in office in 1992, however, she allowed a death penalty bill to become law without her signature.
Finney died in 2001, and no one has been executed in Kansas under the bill she allowed to become law.
She was succeeded in office by Graves, and then Sebelius, neither of whom ever campaigned strongly on the death penalty issue one way or the other.
Sebelius resigned in 2009 to become Secretary of Health and Human Services in President Barack Obama's administration. She was succeeded by her lieutenant governor, Mark Parkinson, who chose not to run for a full term of his own, opening the way for Brownback to win the office in the 2010 election.
Parkinson did not attend the events Tuesday in Kansas City, Mo., and Topeka, but issued a statement in support of his predecessors saying, "the attacks on the courts over the past few years have been unprecedented."
Copyright 2018 The Lawrence Journal-World. All rights reserved. This material may not be published, broadcast, rewritten or redistributed. We strive to uphold our values for every story published.