The full University Senate at the University of Kansas has formally echoed a stance taken by its executive committee: Members want KU's upcoming chancellor search to be more transparent.
"It is essential for the new Chief Executive Officer of this institution to have the opportunity to interact with the people they will be serving and supervising," reads a statement unanimously approved by the body during its meeting on Thursday. "Accordingly, there must be open, public presentations and question-and-answer sessions for each finalist."
The statement also urges the Kansas Board of Regents to include not just student, faculty and staff members on the chancellor search committee, but specifically representatives of KU's peer-elected Student, Faculty and Staff senates.
"Only in this way can we ensure that all stakeholders on campus have a voice in the process," the statement said. "And it is crucial that the students, faculty and staff, as well as community leaders, play a vital role in selecting the next Chancellor — especially in light of the challenges of weapons on campus, and achieving greater diversity, equity and inclusion."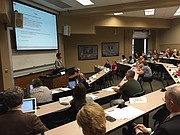 Faculty member Ron Barrett-Gonzalez, professor of aerospace engineering, called the opportunity for the KU community to meet finalists "critical."
"I don't know why we wouldn't at least have a chance to take a look at them, ask them questions," he said. "It's really important for us to find out who they are."
Regents representatives have previously said the selection process probably will be closed, meaning the only name publicly announced will be when the new chancellor is hired.
KU Chancellor Bernadette Gray-Little, who has announced she'll step down next summer, was hired in 2009 following a closed search. The Regents' current search for a new Kansas State University president also is closed.
Last month the University Senate Executive Committee approved a nearly identical statement and delivered it to the Regents at their October meeting.
"Basically what we're asking for is the same process we use here when hiring administrators," said University Senate president Joe Harrington, professor of English.
The university recently has used an open process that featured public forums to hire several high-ranking officials, including the provost.
Harrington said the Executive Committee received a response from Regents chairwoman Zoe Newton saying that for the past 10 years, at least, the Regents have opted for committee-led searches and that committees have consistently included student, staff and faculty representatives, in addition to representatives from administration, alumni and the community.
"I am certain the Board will again choose to include a broad-spectrum of representation," Newton said, in a statement shared by Harrington. "... I can assure you that the Board is committed to choosing the process that it believes will result in attracting the best possible candidates for this critical position."
Contact KU and higher ed reporter Sara Shepherd
Have a tip or story idea?
---
More stories
Copyright 2018 The Lawrence Journal-World. All rights reserved. This material may not be published, broadcast, rewritten or redistributed. We strive to uphold our values for every story published.