Wes: The March 9, 2010, Double Take column featured the story of a couple I met in Chili's. School had been called that day due to an unusually heavy March blizzard and these two knew how to spend it. I watched them from across the restaurant for a bit and then, to the horror of my children who were also out of school that day, I went over, introduced myself, and got to know them. She was 15 and he was 16. They'd been dating for a year. They were very much in love.
Back then, I suggested this as the moral of their story: "Toss everything you know about hooking up and hanging out. Just trash it. Don't cling desperately to a guy or girl who treats you like crap. Go on strike until someone looks at you like that couple looked at each other, warming the restaurant with nothing but each other. A hundred hookups from now you'll never find what that young couple finds everyday across the table from each other, together, effortlessly."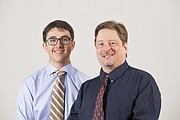 Putting your health first
Visit
WellCommons.com
for more of the latest local and national news on health, wellness, diet and exercise.
It was months before I knew their names. I was telling this as a therapeutic story when the teenage client I was seeing lit up and said, "Oh, you mean Taylor and Daniel! That column went all over Facebook." Apparently a lot of young people wanted these two to work out and perhaps by their example find a way to make romance work out for them, too.
As we'll discuss next week, even as they tag as #goals cute couples on Instagram and Twitter, teens of all genders increasingly eschew relationships. In fact, the very idea of coupling has changed a lot over the years and it's going to change even more in the near future. In turn, the marriage rate continues to decline.
But none of this matters to Taylor Korth and Daniel Sayles. Their marriage rate is 100 percent these days, as they tied the proverbial knot on Saturday at Plymouth Church in Lawrence. That their love might survive the seven years of late adolescence defies all odds. That they could live over half of it while Daniel was a student at West Point Military Academy is unimaginable in today's world of casual sex and ill-defined coupling.
It helps that Taylor is, as anyone who knows her can tell you, a force of nature and Daniel a young man of remarkable character who has elected to serve his country in one of the most demanding of military careers. But their success as a couple isn't as much about two unique individuals as it is the greater whole they create in their togetherness. And that is the final and best lesson they have to teach our readers: Being in a relationship doesn't snatch one's freedom or limit one's choices. It makes both stronger and extends their abilities and horizons beyond what they could ever do alone.
As a guy married now for 36 years (to the same woman no less!), I extend my congratulations to Taylor and Daniel and thank them for inspiring us all, young and old, to remember why we love this way and why it's still worth it.
Gabe: As a latecomer to this ongoing saga, I have not had the pleasure of meeting either Daniel or Taylor, but they sound like amazing people and I extend my own congratulations to them. Their love story seems incredible and I could only wish to know two people who had one such as theirs. I say "wish" because I think a bond like that is extremely rare, especially one formed in the early to mid-teens.
People strive for these idealized relationships, thinking that they are more widely plausible. But just like the high school baller banking on getting into the NBA, only a fraction of a fraction will actually make it. That doesn't mean that that player shouldn't pursue his or her dreams. One may get a ton of value from perfecting the game and he or she will make memories along the way. Dating is similar. Most people won't find an ideal outcome this early in life, but that doesn't mean you shouldn't try. It's kind of like the advice I've received for the past few months leading up to graduation — "It's not the destination, but the journey." That's where you find out who you are, going in and coming out of your experiences with significant others. And maybe, if you are lucky and try hard, you'll find a love like Taylor and Daniel's.
— Wes Crenshaw, Ph.D., ABPP, is author of "I Always Want to Be Where I'm Not: Successful Living with ADD & ADHD." Learn about his writing and practice at dr-wes.com. Gabe Magee is a Bishop Seabury Academy senior. Send your confidential 200-word question to ask@dr-wes.com. Double Take opinions and advice are not a substitute for psychological services.
Copyright 2018 The Lawrence Journal-World. All rights reserved. This material may not be published, broadcast, rewritten or redistributed. We strive to uphold our values for every story published.