Dear Dr. Wes and Gabe: You've written a lot in the last year on sexual and gender identity. Our 15-year-old daughter says she is now identifying as "pansexual," which I take to mean that she could be involved with either a guy or another girl. She also likes to have sleepovers with her female friends, but in explaining all this to us she says that several of them identify the same way. But when asked, she says that she isn't interested in any of those girls "that way." So, our question as parents is how do we handle sexual boundaries if people of any gender could also be our daughter's dating partners? We can live with pansexuality, but we're not going to just open our house to sexual activity with same-sex partners any more than we would for opposite sex.
Wes: Welcome to My World 2016. As noted last week, I'm constantly working to stay caught up and I'm in the thick of it, so I can imagine how hard it is for those who don't have these conversations on a daily basis. And because I've been having those conversations for years, I'm not really a big fan of sleepovers beyond the elementary school. I just know too much.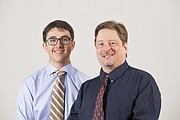 Putting your health first
Visit
WellCommons.com
for more of the latest local and national news on health, wellness, diet and exercise.
However, if you've established a culture in which sleepovers are cool and nobody has done anything to violate the rules you've set, you can't really revoke the privilege just because your daughter wants to have friends over for whom she states no sexual interest. I know parents with straight children who allow opposite sex sleepovers based on the understanding the parties aren't interested in fooling around. The only difference today is that we all need to understand that many teens are identifying as something other than straight and cis-gender (identifying the same as one's birth gender) and we can no longer assume much of anything about who they will and won't be interested in dating or having sex with. So, the rules have to change.
If you're following me closely, you'll see that this extends to a whole lot of other activities we've long presumed (quite often falsely) to be sex-free zones just because kids were gender matched in who they roomed with. Today, only good communication — which kids are increasingly expecting from parents — and wise supervision will interdict sexual activity. If sleepovers are a must, be clear with your daughter that you aren't sanctioning sex at home and that any infractions with any partners male or female, will be grounds not for freaking out and lectures, but for greater supervision and less freedom.
Gabe: Of course, inviting over a partner that your daughter might have a crush on will seem like a great idea to her at first, but the risk is high for sexual involvement. In this case, however, I think your daughter is telling the truth and there is little risk. If she really wanted to have sex with one of those girls, she wouldn't try to do it under direct adult supervision. Teens have plenty of other venues. So, let her have the sleepover. In fact, I would be more concerned with a group of teen girls breaking something at either house than having sex. Take the same precaution that you would at any slumber party under any other circumstances. Make sure the parents and other participants are good, ethical people and not prone to trouble.
People all over the gender spectrum experience love and sex in not so dissimilar ways to straight people, so the rules don't need to change as much as your awareness does. Keeping an eye on kids during sleepovers is never a bad idea. Just try to find a balance of passive mindfulness that isn't Orwellian surveillance. Your daughter is unlikely to try anything if you've established some healthy boundaries. Try not to make her feel so different because of her sexual identity, because by expressing it to you so easily, she's showing that she doesn't feel so different.
— Wes Crenshaw, Ph.D., ABPP, is author of "I Always Want to Be Where I'm Not: Successful Living with ADD & ADHD." Learn about his writing and practice at dr-wes.com. Gabe Magee is a Bishop Seabury Academy senior. Send your confidential 200-word question to ask@dr-wes.com. Double Take opinions and advice are not a substitute for psychological services.
Copyright 2018 The Lawrence Journal-World. All rights reserved. This material may not be published, broadcast, rewritten or redistributed. We strive to uphold our values for every story published.