Because of NCAA rules that limit summertime instruction, Kansas University men's basketball coach Bill Self was not in the Horejsi Family Athletics Center Wednesday, when his team and a handful of former Jayhawks squared off in the second camp scrimmage of the summer, won by the Blue squad, 111-88.
But based on how hard several of them battled, you might have thought Self had a front-row seat, and playing time was on the line.
Photo Gallery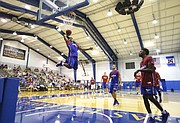 Kansas basketball scrimmage
Kansas players new and old got together for another scrimmage during the Bill Self basketball camp.
That was particularly true of the freshmen — Josh Jackson, Udoka Azubuike and Mitch Lightfoot — who showed that, even in a pick-up basketball environment, they understand clearly that the easiest way to earn minutes on a Self-coached team is to give maximum effort when they're on the floor and make that the baseline for the rest of their game.
Here's a glimpse:
• Early, after being crossed over by Devonté Graham (12 points) on the wing, Jackson recovered, and, while the campers behind him oohed and ahhed about Graham's move, Jackson (19 points on 9-of-13 shooting) rose up and blocked a Graham jumper.
• A couple of possessions later, Graham scooped up a loose ball and seemed to have a break-away layup, but Jackson ran him down and blocked the bunny.
• Azubuike, who stood out most for his signature pain-inflicting slam dunks at the rim, also showed hustle, blocking a Lagerald Vick (23 points) shot in the paint and fighting through two players to corral the rebound.
• It wasn't just highlights that showed off this group's competitive nature. On a drive by Graham to the rim, Jackson slapped down and was whistled for a meaningless foul. His reaction? "Noooooo."
• In the second half, Azubuike (26 points on 13-of-15 shooting) showed his tenacity by trying to wrestle a rebound away from his own blue-team teammate, Carlton Bragg Jr. (22 points), after a missed jumper. Bragg got the board initially but missed his follow attempt, and Azubuike cleaned up the rest.
• Lightfoot (four points), though less involved than he was at last week's scrimmage, had a couple of stand-out moments as well. By far his best came after a turnover, when he made up for it by blocking a shot by Azubuike and then hustling it down before it sailed out of bounds.
Those were just a few of the highlights from this young trio Wednesday, and while they may not wow you to the same degree as Frank Mason III's self-assisted dunk off the backboard or Graham's flashy ball-handling, all of those plays went down as significant. No matter where, it's not easy for a group of first-year players to come in and not only compete against established returning stars but also against some of a program's best-known alumni who made their names on hustle, hard work and heart. In this case, those names included Brady Morningstar, Travis Releford, Elijah Johnson and Kevin Young. And the performance turned in by KU's youngest guns did not go unnoticed.
"Coach Self likes for young guys to come in and be aggressive," said Releford, who added that while playing overseas he still tried to catch every KU game he could on TV. "So that's what we tell 'em. Go out there and compete because we're gonna go right at 'em, too."
Added Young: "Last week, coach talked to them about how competitive he wanted these games, and I think they came out and did a good job of attacking. So far, they've done that really well."
There's little desire for style points with this group. They want to play. And it seems as if they already have figured out the fastest path to spending more time between the lines and less time watching with Self. The question will be how well they can sustain it to earn their head coach's trust.
Copyright 2018 The Lawrence Journal-World. All rights reserved. This material may not be published, broadcast, rewritten or redistributed. We strive to uphold our values for every story published.