Dear Dr. Wes and Gabe: I want a tattoo but my dad is so opposed to it that I'm afraid he'll refuse to pay for college if I get it. I'm 18 and I think it's "my body my rules." My mom is OK with it and she suggested I write to you to ask what could I do to convince him that it's dumb to write off your daughter just because she's expressing herself in body art?
Wes: We used to have a bunch of these letters back in the early years of Double Take, but now tattoos have become so common (maybe too common) that they raise little conflict in most families. In past columns I've said that the first rule of tattoos is that you have to watch at least 20 episodes of "Tattoo Nightmares" before settling on your ink. Those folks do great art and teach some important lessons on what not to do. When it comes to tattoos, what not to do is very important.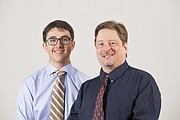 Putting your health first
Visit
WellCommons.com
for more of the latest local and national news on health, wellness, diet and exercise.
I still think that's great advice. However, I now have what may be an even better idea if you can wait until late 2017. That's when a product by Ephemeral is set to enter the market, assuming all goes as planned. They recently announced a new ink that is intended to last about one year and then begin fading "rapidly." And if it doesn't, they can go back over it with a tattoo machine and make it erase what's left. We'll have to wait and see if this is a boondoggle or a billion-dollar business, but I'm ready to invest.
There's good reason why this company sees a huge market for disappearing ink: regret. That's the whole premise of "Tattoo Nightmares." Rarely can anyone make a short-term decision with such long-term consequences as they can when getting a tat, Twitter notwithstanding (Donald Trump).
I say hold off a year, see where this technology goes, and then get a "practice" tattoo. By then you'll be a full year out of your home and well into college, and if your dad is upset you can point out that it will be gone in a year. When it's ready to fade, you'll be entering your junior year of college and you can decide if you liked your art, want a change, or want to bail completely. At that point your dad will surely be more interested in your grades than the angel wings or dolphin or thorny roses you've emblazoned across your skin.
And did I mention watching twenty episodes of "Tattoo Nightmares"?
Gabe: Nothing says "poor decision making" like a poorly-done tattoo, so you really should be 100 percent sure beforehand. It's easy to see where your dad is coming from — he wants the best for you, but in the end I think that the choice should fall to you. It'll be sticking on your skin anyway.
Besides the Ephemeral tattoo product, there are some other ways to trial test a tattoo. I've heard of either carrying around a small copy of the design in your wallet or as your phone's lock screen. If you get tired of looking at it day after day, then it's probably not worth getting a tattoo over. It's a lot different to see a design on you rather than on your phone.
There are some people that will judge you for having a tattoo. Maybe that's what your father is concerned about. Society is rapidly becoming more accepting of them, however, and if you can show that you are committed to this design, there's no reason to prevent you from inking it. The absolute certainty that you will have about the tattoo will add to its value, signifying your patience and reserve.
— Wes Crenshaw, Ph.D., ABPP, is author of "I Always Want to Be Where I'm Not: Successful Living with ADD & ADHD." Learn about his writing and practice at dr-wes.com. Gabe Magee is a Bishop Seabury Academy senior. Send your confidential 200-word question to ask@dr-wes.com. Double Take opinions and advice are not a substitute for psychological services.
Copyright 2018 The Lawrence Journal-World. All rights reserved. This material may not be published, broadcast, rewritten or redistributed. We strive to uphold our values for every story published.