Nearly three weeks after an infant girl was found abandoned and seriously injured in an apartment complex's trash, police say the child's stepfather will face criminal charges.
Marquis Jamall Young, 27, of Lawrence, will face charges of attempted first-degree murder and child abuse, said Lawrence Police Department Sgt. Amy Rhoads on Tuesday.
Young is currently being held in the Johnson County Jail on suspicion of misdemeanor domestic battery, according to the jail's booking logs. He was booked into the jail on Sunday and is currently held in lieu of a $20,000 bond.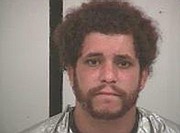 In the early morning hours of July 7, police received a report that a 9-month-old infant girl was left in a trash receptacle at an apartment complex in the 2500 block of West Sixth Street.
The apartments within the complex are owned and managed by Country Club on 6th.
Police did not clarify precisely where the baby girl was found, though multiple complex residents said the apartments all share a centralized dumpster, which also compacts trash.
The infant, who suffered life-threatening injuries, was treated at a Kansas City-area hospital and later released.
Rhoads said the baby girl is in the state's custody and will continue to receive outpatient treatment for her injuries.
On July 13, Young was arrested alongside his wife — who is also the infant's mother — Sheena Young, on suspicion of disorderly conduct at Perry Lake.
The couple was accused arguing and being disorderly after deputies warned them to "straighten up," said Jefferson County Sheriff Jeffrey Herrig.
Both Sheena and Marquis Young were released from Jefferson County Jail after posting a bond of $3,000 each.
Marquis Young was then arrested in Johnson County after he was accused of battering Sheena Young the day before in Lenexa, according to a criminal complaint filed in Johnson County District Court.
Although he currently remains in the custody of the Johnson County Jail, Rhoads said Marquis Young will be brought to Douglas County to face the attempted murder and child abuse charges.
A representative of the Douglas County District Attorney's Office said information regarding when or how Marquis Young will be transferred to Douglas County was not available.
Rhoads said police have no information to believe anyone else was involved in the incident.
Marquis Young is scheduled to appear in Johnson County District Court regarding the domestic battery charge at 11:30 a.m. Aug. 10.
Related coverage: Infant found in apartment complex trash receptacle
•
9-month-old girl found in trash at Lawrence apartment complex; injuries possibly life-threatening,
July 7, 2016
•
Police say no arrests have been made in case of 9-month-old girl found in trash,
July 8, 2016
•
No arrest yet in case of 9-month-old girl found in trash,
July 11, 2016
•
Parents of baby abandoned in dumpster charged with disorderly conduct at Perry Lake,
July 15, 2016
•
Police: Baby found in Lawrence dumpster released from hospital,
July 19, 2016
•
One man in custody regarding infant found in trash receptacle earlier this month, police say,
July 26, 2016
•
From domestic battery to accusations of attempted murder: the criminal history of man accused of leaving baby in dumpster,
July 31, 2016
Copyright 2018 The Lawrence Journal-World. All rights reserved. This material may not be published, broadcast, rewritten or redistributed. We strive to uphold our values for every story published.