Wes: Next Tuesday marks the end of Double Take's nearly 12-year run. It's remarkable to look back and re-read the 52 columns a year we've published, documenting the march of a generation.
We've covered not only the changes in teen and young adult culture, but also the process and means of change itself. The youngest members of our target families, now in middle school, have a way of being and interacting that is already quite different than the 18-year-olds who just left high school. Those recent seniors are in turn quite divergent from those just passing the age of 21, and 30-year-olds, who were teens when we started the column, are as different from today's young adults as can be imagined. Some of them who were young parents will have teens in the next three to six years and will undoubtedly find they feel way less hip than they thought they would in their early 30s. Culture changes so quickly now that generation gaps are no longer really generational but instead short intervals of three to four years.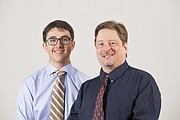 Putting your health first
Visit
WellCommons.com
for more of the latest local and national news on health, wellness, diet and exercise.
In this, the last column before we say goodbye to Gabe Magee next week, I want to extend a special thanks to Jenny, Marissa, John, Kelly, Julia, Samantha, Ben, Miranda, Katie, Kendra and Kyra, eleven of the best young coauthors anyone could ask for. Before becoming a psychologist, I did youth work with the Kansas West Conference of the United Methodist Church, and I've worked with kids in this age group since 1992. So, I know the value of building a working partnership with teens. Each coauthor, ranging in age from 16 to 18, was a delight to work with and all are now progressing successfully through college and the life beyond.
Whenever I was approached on the street about the column, as I often have been, I'd be asked how I found such talented writers. The fact that I developed a precise essay and interview selection system over the years takes nothing away from the fact that each of these coauthors was among the crème de la crème of their peers. In later years even the runnersup in the Double Take contest were so strong that I later asked them to join me for guest roles on TV and radio.
Lawrence is genuinely a unique place in the Midwest, and one of its greatest strengths is its youth culture drawn from area schools, the University of Kansas and Haskell Indian Nations University. It's been a privilege every week to join with, examine and comment on that culture, as well as national and international trends. There's no question that I'll miss writing the column each week, but for those who are interested, keep tuned to my webpage dr-wes.com as we'll be expanding our blogging there over the next few months to reflect a broader view on family psychology including video and podcasts.
Gabe: It may be cliché to say that all good things come to an end, but the saying certainly rings true for me these days. As a concept alone Double Take is revolutionary, reaching across generations to create dialogue between them. My predecessors have always risen to the challenge of writing with a published author and psychologist and exceeded expectations year after year with quality writing that delves deep and inspires further thought.
But we definitely shouldn't get all the credit. The common denominator between all of us was Dr. Crenshaw. Under his guidance, there were molds to pull my ideas out and a receptive ear to bounce them off of. I knew I could always count on him to talk my way to a final concept. This mentorship speaks not only to his wisdom but also to his kindness.
One of the best things about writing the column was the reaction every Tuesday when it came out. Whether it was a teacher or family friend, or someone my parents or I ran into, their enjoyment of the article made writing Double Take more real — like someone adoring your baby. Little things like this made me appreciate how lucky I was to get this opportunity.
It's hard to close off the column next week after 12 years of great columnists, but I take comfort in knowing that writing like this never truly goes away, it only evolves. I know quite a few of the past writers have not stopped writing. I know I will not.
— Wes Crenshaw, Ph.D., ABPP, is author of "I Always Want to Be Where I'm Not: Successful Living with ADD & ADHD." Learn about his writing and practice at dr-wes.com. Gabe Magee is a Bishop Seabury Academy senior. Send your confidential 200-word question to ask@dr-wes.com. Double Take opinions and advice are not a substitute for psychological services.
Copyright 2018 The Lawrence Journal-World. All rights reserved. This material may not be published, broadcast, rewritten or redistributed. We strive to uphold our values for every story published.