Susan Tate, CEO of the Lawrence Arts Center, will retire at the end of the year.
Tate, who has served as CEO since 2009, plans to devote more time in her retirement to managing her family's business interests, which she took on after her father's recent death.
The Lawrence Arts Center plans to begin the search for her replacement in August and announce the new CEO by the end of 2016, said Joan Golden, chairwoman of the Arts Center board of directors.
"We have a terrific staff and board of directors, and everything will continue until the end of the year when there's a new CEO in place," Tate, 53, told the Journal-World Tuesday. "We have a strategic plan and a vision for this year and for subsequent years and we are absolutely committed to it and working on it every day."
She announced her decision last month to the Lawrence Arts Center's executive committee.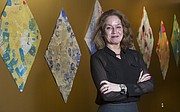 Tate, who taught English and humanities at Lawrence High School before taking on her current post, says she will remain in Lawrence and continue her involvement with the Arts Center primarily "working with major donors," outside ventures such as the Free State Festival and East Ninth Project, and as a consultant.
Under her leadership, the Lawrence Arts Center has won prestigious grants from the National Endowment for the Arts, ArtPlace America, the William T. Kemper Foundation and the William Randolph Hearst Foundations.
Tate has also overseen the development of the nationally recognized STEAM (science, technology, engineering, art and math) program, as well as the expansion of the Arts Center's artist-in-residence and visiting artists program, and the creation of a Legacy Fund held at the Douglas County Community Foundation for the long-term support of children's art education.
As far as ideal CEO candidates go, Golden joked hers would be "a clone" of Tate, who plans to help with the transition process.
"It's very, very interesting, because from Susan's background, what she brought was a lot of energy, a lot of vision, the ability to think outside the box, collaborate, see down the road of what that collaboration could bring, and she didn't necessarily have a business background in running a $2.5 million business, which is what the (Arts Center) has grown into," Golden said. "I'm being very open in my thoughts. I don't know where this person might come from."
Copyright 2018 The Lawrence Journal-World. All rights reserved. This material may not be published, broadcast, rewritten or redistributed. We strive to uphold our values for every story published.