An education expert whose work crosses over into multiple disciplines will be Kansas University's 11th Foundation Distinguished Professor, KU announced Friday.
Yong Zhao currently is the presidential chair and a professor in the Department of Educational Measurement, Policy, and Leadership at the University of Oregon.
He will join KU in August as a professor in the department of educational leadership and policy studies within the School of Education. He also will have a courtesy appointment in the School of Business, where he'll collaborate with the KU Center for Entrepreneurship.
Interim Provost Sara Rosen, in a news release from KU, called Zhao "one of today's most influential voices in education," and educational leadership and policy studies department chair Susan Twombly said he brings "extraordinary opportunities."
"He has his finger on the pulse of a number of topics that are driving concepts in education today and for the foreseeable future," Twombly said. "He's a perfect complement to many of our strengths and will be able to develop crucial partnerships not only on campus, but around the globe."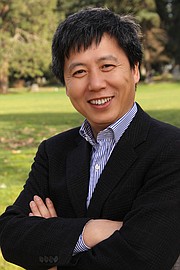 Zhao is especially well known for his research in five key areas, according to KU: creativity and entrepreneurship education; globalization and education; China and Chinese-language learning; technology in education and schooling; and education reforms around the world.
At Oregon, Zhao joined the College of Education in 2010 and served as its associate dean from 2010 to 2013. He also is director of the college's Institute for Online Education, according to KU. Previously, he was a University Distinguished Professor at Michigan State University, where he also directed Michigan State's Confucius Institute.
As are KU's other Foundation Distinguished Professors, Zhao is a prolific researcher with many professional honors. According to KU, he has published more than 100 articles and 20 books, including his most recent book, "Who's Afraid of the Big Bad Dragon: Why China has the Best (and Worst) Education System in the World."
Zhao earned a bachelor's degree in English language education from Sichuan International Studies University and a master's in education and a doctorate in educational psychology from the University of Illinois at Urbana-Champaign.
KU's Foundation Distinguished Professors initiative aims to recruit 12 "eminent" scholars who will support the university's strategic initiative themes. Zhao is the 11th of 12 professors to be hired.
---
KU Foundation Distinguished Professors
KU received state funds for its Foundation Distinguished Professor initiative, which aims to recruit 12 "eminent" scholars to support the university's four strategic initiative themes.
Eleven have been hired so far, with the first being announced in January 2014. The professors and their departments are:
Victor Agadjanian, sociology
Beth Bailey, history
Chris Beard, ecology and evolutionary biology
James Bever, ecology and evolutionary biology
Cecilia Menjívar, sociology
Dennis O'Rourke, anthropology
William Picking, pharmaceutical chemistry
David Roediger, American studies and history
Christophe Royon, physics and astronomy
Steven Soper, chemistry (July 2016)
Yong Zhao, educational leadership and policy studies (August 2016)
Contact KU and higher ed reporter Sara Shepherd
Have a tip or story idea?
---
More stories
Copyright 2018 The Lawrence Journal-World. All rights reserved. This material may not be published, broadcast, rewritten or redistributed. We strive to uphold our values for every story published.