Lawrence residents and frequent visitors are likely all too familiar with the yellow parking tickets stuck onto windshields when drivers don't pay the downtown meters.
Parking enforcement issued 94,390 of them in 2014, bringing in slightly less than $499,000 in revenue that year from overtime parking fines.
Now, an alternative to paying the $3 ticket is being proposed at City Hall. So too is an idea to increase the fine to $5.
Offering parking violators the option to pay their fines with canned goods or monetary donations to food pantries could turn from idea into reality if approved by the City Commission on Tuesday. But commissioners also are being warned by staff members that the program could have some pitfalls, and may require overtime parking fees to increase to $5, up from $3 currently.
Commissioner Matthew Herbert introduced the idea in December with an appeal that the alternative be offered year-round and not restricted to the holiday season.
"It could be a great thing for our community and those in hunger," Herbert said at the time. "Hunger is not a seasonal thing."
On the street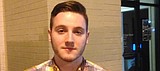 Yes. I'd rather a parking fee go to charity than to the local government.
But research by staff in the city manager's and city attorney's offices and the city finance department cites concerns with that type of program: namely, revenue loss.
Staff projected that the city would receive $30,000 less annually in parking fines, assuming about 6 percent of parking violators participated.
The projected loss is also assuming the option would be available only to those with overtime parking fines, which are initially $3 and increase to $15 after 10 days of nonpayment, and not other types of parking violations.
The city had projected bringing in $545,202 to the parking fund from overtime parking violations in 2016. With the canned food option, that projection falls to $515,202, according to a city memorandum on the issue.
In 2015, the parking fund was used to pay parking meter attendants, municipal court clerks, three police officers, a public works employee to do maintenance on the parking meters and garages, as well as parks and recreation employees for downtown beautification projects.
The projections don't account for the cost of operating the canned food program, the city memorandum states, which could include additional storage space and fuel needed to transport canned goods to charities.
"…such a program may add an additional strain on Municipal Court resources, ranging from space to keep cans in an already small area with limited storage options, to significant staff time needed for collecting and counting cans, and ensuring that they are properly recorded toward outstanding parking fines," the memorandum reads.
To make up for a potential revenue loss, Herbert said, the city should raise overtime-parking fines from $3 to $4.
City staff said increasing fines from $3 to $5 would bring in an extra $178,000 annually — enough to cover the revenue loss and the additional cost the program would pose to the city.
Staff based their recommendations to the City Commission on research into eight other U.S. cities that have temporary "Food for Fines" programs: Lexington, Ky., Albany, N.Y., Savannah, Ga., Cincinnati, Ohio, Birmingham, Ala., Stillwater, Okla., Tallahassee, Fla., and Salem, Mass.
None of those cities' programs were year-round but lasted only one week to two months, mostly during the holiday season.
That was also concerning for staff, who wrote in the memorandum that it would be "difficult to predict additional challenges that may appear."
Staff said the program may be successful in other cities because it's temporary and offered during the holidays "when people generally feel charitable." Participation may not be consistent in a year-round program, staff said.
Another concern highlighted in the city memorandum was selecting which local charities would receive the canned food donations, which could become a "delicate and complex issue," the memo states.
In his proposal, Herbert suggested allowing parking violators to make a monetary donation to a local food pantry and present a donation receipt to the city in lieu of payment. The only additional responsibility placed on the city, he said, would be creating donations receipt booklets that would be distributed to participating food banks.
City staff said the monetary donation is a possibility, but it comes with an increased potential for fraud.
"…someone could potentially forge a receipt or otherwise obtain a receipt without donating food," the city memo states.
City Commissioners will be asked Tuesday to vote on one of four options:
• Implement the "Food for Fines" as a pilot program and have the municipal court collect canned goods in lieu of payment temporarily. The City Commission would review the program's progress and effects sometime in the future.
• Run the program for a short period — two weeks to one month — and then let it expire, such as other cities do during the holidays.
• Establish "Food for Fines" year-round and keep parking fines at $3. This option would lead to a decrease in services provided by the parking fund. Staff noted that the amount of the parking fund set aside for downtown beautification — about $225,000 in 2014 — was already removed from the parking fund in the 2016 budget because of the parking fund's decreasing balance.
• Establish "Food for Fines" year-round and increase parking fines from $3 to $5.
City commissioners will also be asked to provide other direction, such as which local food banks would receive the canned goods and what types of food would be accepted.
The City Commission convenes at 5:45 p.m. Tuesday at City Hall, 6 E. Sixth St.
---
At the meeting, commissioners will also vote on:
• Using $100,000 in the city's Affordable Housing Trust Fund for a three-house complex proposed by Habitat For Humanity, Tenants to Homeowners and three other local nonprofits.
The city's Affordable Housing Advisory Board voted Monday to recommend the City Commission fund the building of three homes at 908 La Salle St. The project was the only proposal received after the board put out a call for proposals in January to fund projects that could be complete in 2016. If approved, half of the $100,000 would go to Habitat for Humanity and half to Tenants to Homeowners.
• A $238,540 request from the Parks and Recreation Department to hire staff to combat the emerald ash borer infestation this year.
The Kansas Department of Agriculture confirmed in October that the emerald ash borer was present in Douglas County. Commissioners will be asked Tuesday to choose one of three plans to combat the infestation, which is expected to kill all of the city's ash trees in the next 10 years. The first option, which Parks and Rec is recommending, is to spend the $238,540 this year on three additional staff members and public outreach. The second option includes hiring one full-time staff member for public outreach and contracting out all of the work to treat, remove and replace ash trees, and the third is to hire a contractor to remove all of the dead ash trees over the next eight years, without replacing them.
The item was on the City Commission's Feb. 16 agenda, but it was deferred because Mayor Mike Amyx could not be in attendance due to illness.
• A new policy on city travel and expenses, including the use of per diem expense accounts.
Under the new policy, city employees, city commissioners and board members on city boards would receive a daily allowance for meals while traveling. The current policy calls for employees to keep and present their receipts for reimbursements. The amount of the allowance has not yet been determined but will be based off IRS guidelines. The guidelines cite the Government Services Administration, which recommends approximately $64 per day for cities in the region.
• A downtown ban on glass bottles and containers during the NCAA tournament.
The Lawrence Police Department is recommending the city adopt a temporary ordinance, making it illegal for people to carry glass bottles and other glass beverage containers in in the downtown public right-of-way during the Elite Eight and Final Four weekends. The ban would be in effect from noon on Saturday, March 26, through 6 a.m. on Monday, March 28, and resume from noon on Saturday, April 2, through 6 a.m. Tuesday, April 5. If caught with glass bottles and containers during those times, violators face a misdemeanor punishable by a fine of up to $100.
In a city memo, the police department says the ordinance was in anticipation of the success of the Kansas University men's basketball team and would "greatly improve the safety of our citizens and our police officers."
Copyright 2018 The Lawrence Journal-World. All rights reserved. This material may not be published, broadcast, rewritten or redistributed. We strive to uphold our values for every story published.