When an underage, runaway girl wasn't making enough money as a prostitute, a local woman, essentially acting as her pimp, kicked her out of her apartment, police say.
The woman, 18-year-old Jakaynah Maylene Burtzloff, was arrested Aug. 10 and now faces two felony counts of aggravated human trafficking.
Police picked up the runaway girl, who is 17 years old, on May 4, 2016, at 2124 W. 26th St., according to an arrest affidavit filed in Douglas County District Court. She told police that Burtzloff encouraged and helped her to sell sex to two men in Lawrence, according to the affidavit.
An arrest affidavit is a document filed by police explaining the grounds for an arrest. Allegations within an affidavit must still be proven in court.
The teen said she ran away from Florida and was also involved in a human trafficking case in Dallas, the affidavit says.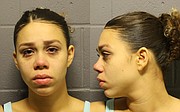 The teen told police she met Burtzloff at Highland Park High School in Topeka, where both were students, the affidavit says. There, Burtzloff allegedly offered her a place to stay in Lawrence, sold her an old phone and began arranging meet-ups with men.
Burtzloff advertised the teen as an escort online and drove her to meet up with men on two occasions, the affidavit says.
The teen had sex with one man near downtown Lawrence and another in a south side apartment complex, the affidavit says, while Burtzloff waited outside in her car.
The first man gave the teen $80 while the second man gave her $100, the affidavit says. Both times Burtzloff allegedly collected the money and said "she was going to put it in the bank for her."
Burtzloff arranged for the teen to meet up with a third man; however, the teen objected, the affidavit says.
Burtzloff told the teen "she was going to be kicked out of the apartment" and she "was going to throw all her property in the trash," the affidavit says.
On Aug. 8 police spoke with Burtzloff about the allegations.
During an interview at the Lawrence Police Department's Investigations and Training Center, Burtzloff admitted to advertising the teen as an escort and driving her to the meet-ups, the affidavit says, and she also admitted to providing condoms for the teen and to taking a cut of the money she earned.
However, Burtzloff told police she did not force the teen to do anything against her will, the affidavit says.
Burtzloff is currently being held in the Douglas County Jail in lieu of $200,000 bond. She is scheduled to appear in court on Sept. 2 for a preliminary hearing, where a judge will determine if there is enough evidence to order her to stand trial.
Copyright 2018 The Lawrence Journal-World. All rights reserved. This material may not be published, broadcast, rewritten or redistributed. We strive to uphold our values for every story published.