Wes: It is again time to offer a fond farewell to a Double Take writer. This year however, both coauthors will say goodbye to our readers as the column ends its 12-year run as announced in April. Gabe Magee has done a great job this year, often against some rather difficult circumstances as we looked for ways to wind down a project that began when Gabe was in first grade. We have done what we came here to do, Gabe and I, and now we shall each go forth to do other things, taking with us what we have learned here.
So it is for all young people who, like Gabe, just graduated from high school and now go into what we call with wry condescension the "real world," hopefully taking what we've taught them and making that world a better place. That seems quite a challenge now, amidst the constant drone of dystopia, envisioning a bitter and divisive future and an angry political rhetoric.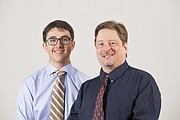 If America is not great already — and that is somehow up for dispute — then it will need to be made great and that will never come from the power of demagogue rulers. It will come, as it always has, from Gabe, and all the other kids we send forth in the coming weeks. It will come from the dreaming and idealism of young people, not from the hostile has-beens who offer to solve all our problems as if life were an infomercial for no-money-down real estate.
In 2009, reeling from the Great Recession, I wrote in my goodbye to Kelly Kelin, "These times may try our souls, but they are far kinder to our children than any in history and despite each adverse turn before, the next generation has always found a way… Of course we hope for perfect peace and prosperity and to live in a healthy environment, but for today we would do well to send our kids out with sincere hope for personal growth and enlightenment, an intense desire to work hard for what they want, and a goal of advancing our best values and ideals."
On that note, I shall close this column with a favorite quote from Garrison Keillor. I met him a couple of years ago in the Fox 4 greenroom. I just looked up one morning and there he was, standing over me. I sent him a copy of one of my books, which I opened with this same quote. It says in simple, elegant style, what we have tried to say in each of our columns over the years. "Nothing you do for children is ever wasted. They seem not to notice us, hovering, averting our eyes, and they seldom offer thanks, but what we do for them is never wasted."
Putting your health first
Visit
WellCommons.com
for more of the latest local and national news on health, wellness, diet and exercise.
Gabe: I still feel a sense of disbelief that I wrote for Double Take. It doesn't seem so long ago that I started my co-authorship and I believe it has been one of the greatest opportunities in my lifetime. I'm glad I didn't pass up the call for applications.
The very fact that this isn't just a final column for me but also for Dr. Wes and Double Take itself is a sign that times are changing. Print is in decline in favor of online media, a trend that has been happening in the free market for almost two decades now. Often people will react to a changing world with confusion, anger, desperation or fear. But humanity is not changing. We've been made of the same basic stuff for millennia, and for the time being, our species and its personality will not change.
I'm bullish not only on the future of journalism, but also on America. But our continued rise can happen only if we keep ourselves informed. Too much anti-intellectualism exists; people entrenching themselves in one opinion based not on reason but on fear and hate. I used to think this segment of the population was a minority, but after this year I worry that it's catching on.
Instead of joining that trend, try thinking for yourself. You have a wealth of human knowledge to tap into. Don't let anyone satisfy you with vague platitudes or assumptions stated as fact. Thinking and understanding really matter in these times.
I'll join Dr. Wes in ending Double Take with a quote. Although I'm a little young to have actually met President Lyndon Johnson, his impact on our world is still prevalent in ways that we all take for granted. His "great society" programs established the safety net for all of our citizens and he stared down demagoguery during his 1964 re-election.
Keep his words in mind in the coming months: "Yesterday is not ours to recover, but tomorrow is ours to win or lose."
— Wes Crenshaw, Ph.D., ABPP, is author of "I Always Want to Be Where I'm Not: Successful Living with ADD & ADHD." Learn about his writing and practice at dr-wes.com. Gabe Magee is a Bishop Seabury Academy senior.
Copyright 2018 The Lawrence Journal-World. All rights reserved. This material may not be published, broadcast, rewritten or redistributed. We strive to uphold our values for every story published.