More than 2 inches of rain fell on the Lawrence area Tuesday night, causing flooding of the Kansas River at Lawrence and leading to a wastewater dump out of Topeka.
Lawrence saw about 2.19 inches of rain between approximately 8 p.m. Tuesday and 4 a.m. Wednesday, according to measurements from the Lawrence Municipal Airport. As of Thursday morning, the Kansas River at Lawrence was still above flood stage.
The heavy rainfall plus a mechanical failure caused the South Kansas River pump station in Topeka to dump 2.4 million gallons of untreated wastewater into the Kansas River on Tuesday, the city of Topeka said in a release.
Lawrence, downstream from Topeka, was notified Wednesday afternoon.
Photo Gallery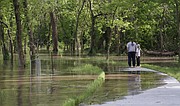 Kansas River spills over its banks near Burcham Park
The Kansas River at Lawrence sits above flood stage Wednesday, April 27, 2016, after Tuesday night thunderstorms dropped several inches of rain on the area. Areas near Burcham Park on the south side of the river, including a new walking path, were covered by the flood water.
Jeanette Klamm, a management analyst with the Lawrence utilities department, said the 2.4 million gallons "is not even going to be a blip" because of the high river levels Wednesday.
Last year, in an agreement with state environmental regulators, Topeka agreed to pay a civil penalty of $10,000 after a power failure caused another 3 million gallons of sewage to be dumped into the Kansas River.
The National Weather Service issued a flood warning Wednesday afternoon for the Kansas River at Lawrence and Lecompton.
The warning, which was extended Thursday morning, stated the river at Lawrence was at 18.5 feet, just above the flood stage of 18 feet. The river is expected to rise to 18.8 feet before falling below flood stage Thursday evening. The flood warning will continue until Friday morning.
According to the warning statement, Lawrence's Burcham Park on the south side of the river is closed because of flooding. Lowlands near the levee on the north side of the river are also flooded.
"When we have as much water going by now with the river as high as it is, even if we were sampling minute-by-minute, chances are we wouldn't even see their 2 million gallons," Klamm said. "We have millions of gallons coming by us every minute."
The Kansas Department of Health and Environment was also notified of the sewage release and determined a public advisory was not needed, the news release states.
Chances of precipitation will continue the rest of the week.
According to the weather service, Thursday is expected to be mostly sunny. Friday's forecast includes a 30 percent chance of showers, which increases to a 70 percent chance in the evening.
Copyright 2018 The Lawrence Journal-World. All rights reserved. This material may not be published, broadcast, rewritten or redistributed. We strive to uphold our values for every story published.