Wes: There's a surprise in store for teens who want to pad their resumes and pocketbooks with summer employment. The improving job market means that many of the positions that were filled by adults after the 2008 recession are opening back up to teens.
Even before that now legendary economic slump, fewer teens were participating in the job market in part because of a growing (and somewhat out of control) emphasis on college resume building. Many parents have essentially bought their kids out of getting a job so they can take harder classes, write essays, and do volunteer gigs and extracurriculars that college selection committees like to see.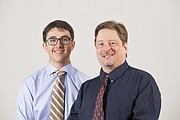 Putting your health first
Visit
WellCommons.com
for more of the latest local and national news on health, wellness, diet and exercise.
Still, there are great reasons to carve out time for work. First and foremost, a part time job teaches a real world economics lesson about the value of money and how to invest, save, and enjoy it. As we've lamented many times, parents often give too much and expect too little in return. A job, and a more beneficent approach by parents, can teach teens crucial survivals skills and make them more resilient — that learned ability to persevere in the face of obstacles like angry customers, dirty grease pits or floors that always need mopping.
Finally, a part-time job builds a crucial backup plan if the teen falters on the academic path. Although no one likes to think about it, many of this fall's freshmen won't graduate in seven years. Many won't graduate at all. A good work history can serve as a stopgap while deciding on a new direction.
Of course, teen employment isn't all sunlight and joy. A job can distract from academic performance at a time when it's critical to do well in school, particularly if work takes up more than 12 to 15 hours a week. It can teach a false economic lesson to kids who find themselves with more disposable income at 16 than they're likely to have at 21. And if college is really your cup of tea, a high school job isn't likely to impact your application unless it's a very good analog for the desired career (i.e. working as a CNA as a precursor to a healthcare profession).
Still, from my chair, the pros of teen employment outweigh the cons as long as families help their kids manage time and keep their priorities straight.
Gabe: Getting a job isn't easy, but recently it isn't as hard as it is talked up to be. Gaining money and resume experience offers more incentive than having a lot of free time on your hands so most teens should take advantage of the good employment market to reap these benefits.
While kids may have more time to focus on school if they do not have a job, it's really a numbers game. Fewer hours bagging groceries or standing behind a grill might mean more hours potentially doing homework or studying, but it usually doesn't work out this way. Most people I know who work and go to school somehow get by — in fact they often do very well in school. Since they aren't usually working forty hours a week they have time to do homework, study for standardized tests, and even hang out with their friends. However, when kids work enormous amounts per week, it can end in disaster. Luckily, most employers don't expect or even want kids to have more than a part-time position. Getting a summer job will provide most of the benefits without distracting you from schoolwork.
I may be a capitalist dog, but money is a pretty nice thing to have. Even when you're still a dependent of your parent, it's so much more enjoyable to have a consistent stream of income. It's like training wheels for later life in college and beyond. As parental restrictions decrease, access to income provides a different type of freedom and your future self will definitely appreciate any savings you manage to build up.
Getting a job can still be difficult, but the market this summer will be the friendliest in a while, and this opportunity may not last forever. So act now.
— Wes Crenshaw, Ph.D., ABPP, is author of "I Always Want to Be Where I'm Not: Successful Living with ADD & ADHD." Learn about his writing and practice at dr-wes.com. Gabe Magee is a Bishop Seabury Academy senior. Send your confidential 200-word question to ask@dr-wes.com. Double Take opinions and advice are not a substitute for psychological services.
Copyright 2018 The Lawrence Journal-World. All rights reserved. This material may not be published, broadcast, rewritten or redistributed. We strive to uphold our values for every story published.