Looking out over what could be the future site of a transportation hub (a Kansas University parking lot filled with vehicles on a Friday afternoon), the president of the nearby University Place Neighborhood Association explained some of the questions neighbors have about the project.
They want to know what kind of noise and air quality the transit hub would produce; whether it would push traffic into University Place; and if the center, which would include multiple levels of parking, would be visible from their homes.
Steve Evans, a retired architect and the neighborhood's president, said he initially heard negative feedback, but he wants the neighborhood to "wait and see."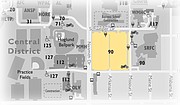 "When you hear about something like this being adjacent to your neighborhood, you think it doesn't sound good," Evans said. "I think there's people making a lot of assumptions now, but we really need to understand what this project is — then we can have some opinions about it."
On Tuesday, Robert Nugent, administrator of Lawrence Transit System, will ask the City Commission for permission to submit a grant application for the project to the U.S. Department of Transportation. With that, Nugent will need a letter of support signed by Mayor Mike Amyx and a commitment to provide the funding required to match the federal grant.
The grant application is due April 29.
"This is so they can take another look at it and also so we can ask them for a letter of support and a financial commitment for the project," Nugent said
Current estimates put the transit hub, proposed for KU's Lot 90, at $20 million. If awarded, a Transportation Investment Generating Economic Recovery (TIGER) grant would provide 80 percent, or $16 million.
The hub, dubbed an intermodal facility comprising a parking deck, bicycle lockers and office space, would be constructed in partnership with KU. Chancellor Bernadette Gray-Little has given her approval to proceed with the grant application, said Danny Kaiser, associate director of KU Parking and Transit.
If the project were to win a grant, an agreement would be established between the city and KU to provide the $4 million match. In a memo to city leaders, Nugent said Lawrence Transit has more than $4 million in reserve funds that could be used for the match. The funds came from a 0.05 percent sales tax approved by voters in 2008.
According to Nugent's memo, a bus transfer facility would be located on the first floor, and up to four levels of parking would rise above it.
The facility would be accessible from Schwegler Drive off Naismith Drive, and the project would include road improvements to ease traffic flow at 18th and Naismith.
Besides the Lawrence Transit Center, it would serve KU on Wheels and the K-10 Connector.
Renderings of the center are not yet public. Nugent said he'd like to provide more details to commissioners Tuesday than are currently available, such as the final cost estimates and the structure's footprint.
The new development, initially proposed for the northeast section of that parking lot, is now being considered for the southeast portion. It's anticipated to cover less than half of Lot 90, Nugent's memo states.
If approved by the City Commission on Tuesday, after the grant is submitted, work will continue on environmental and traffic studies and detailed drawings.
Nugent said Tuesday's vote would not be a final decision on the location.
The City Commission rejected a proposal last year to locate a transit hub at 21st Street and Stewart Avenue, and this new site, too, could still be denied.
"I don't think their vote will say, 'This is where it's going to be and we're committed to it from now on,'" Nugent said. "It could happen somewhere down the line, the public, or even us, could say, 'This is not where we want to do it.' And we could withdraw the proposal for the grant. There's a lot of public process."
The public process will continue Wednesday with an open meeting at Fire Station No. 5, 1911 Stewart Ave. On Thursday, the University Place Neighborhood will meet to discuss the project.
University Place is bounded by 19th Street to the south, the KU campus to the north and Arkansas Street to the east. It runs as far west as Edgehill Road. The neighborhood surrounds Ambler Student Recreation Fitness Center, and just to the west of Ambler is Lot 90.
"It's important for us now is to really, fully understand what this project is and how it's going to affect the neighborhood," Evans said. "I think they're really sincere that they want to hear what we think and involve us in the process. That, to me, is probably the most important thing."
Copyright 2018 The Lawrence Journal-World. All rights reserved. This material may not be published, broadcast, rewritten or redistributed. We strive to uphold our values for every story published.