Wes: The March 23 article in the Journal-World titled Kansas "Regents launch online tool in response to Legislature's 'degree prospectus,'" request got exactly zero comments in the online version of the paper, which is surprising given that it was cited in the article as "controversial."
It's hard to trust any initiative from a Legislature that hasn't exactly been pro-education recently, but ksdegreestats.org offers some pretty useful information that fits with our advice over the years on major and career selection. It also indicates the rather stark cost differences between the various state schools. Even I had no idea that some degrees at KU are nearly twice as expensive as say, Emporia State. Just as important, the website offers information on entry and five-year salary for different career paths along with a loan calculator to see what percentage of a student's earnings will be committed to debt.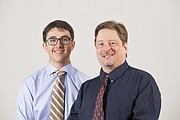 Putting your health first
Visit
WellCommons.com
for more of the latest local and national news on health, wellness, diet and exercise.
This isn't a perfect tool — do high school juniors and seniors really care what percentage of a college's graduates are employed in Kansas or is that just politics? But it's better than what most students and families use when deciding on a school, major and career, which can best be summed to "a wing and a prayer." Sometimes it's just a prayer.
In his interview, Regents President Blake Flanders actually mentioned this, noting, "The economic returns of higher education are important, but they're not solely the purpose for higher education. We know we want students to find their passion." That sounds really lovely — young folks pursuing their dreams with hope and verve. Every week in my office for the 16 years I've practiced in Lawrence, I've seen the results of youthful career passion. Sometimes it's amazing. Other times, catastrophic.
What usually made the difference wasn't the depth of young people's yearning or their will to seek. It was the extent to which their dream combined with reality, especially with regard to the cost-benefit of their chosen path. Those who carefully figured out how to monetize doing what they love came out on top. Those who put off the hard facts of market economics didn't.
I've said it many times before in this column: Where career planning is concerned there's never any lack of passion. What's missing is fact and reason. Say what you want about ksdegreestats.org, and there may well be an underlying motive afoot in its publication, but it does offer some much needed advice on career selection.
Gabe: Wes is right. At its heart, college is a financial decision. Talk all you want about the pursuit of knowledge, but the real reason why higher education factors into any of our lives is that it can be a profitable investment. People make more with a degree than without, and a college education is often seen as necessary by a vast majority of employers. But in the past few decades, the cost of that investment has grown, so we should be wary of the risk/reward with each institution we consider.
That makes this tool a good thing. It can help families and future students evaluate the "value" of an education across several state institutions.
However, in many ways ksdegreestats.org really draws more attention to the problem rather than mitigating it, like a Band-Aid covering a crack in the Hoover Dam. There has been a lot of well-founded rhetoric about the rising cost of college in the United States. Inflation in the price of a four-year degree has far exceeded that of our currency due to price gouging by the educational-industrial complex. In response, more students have taken out loans to finance their education, leading to massive debt.
Many solutions have been proposed, ranging from free public tuition to increased FAFSA assistance to regulation on tuition and fees. I can't say I know what the right solution is. But we need one. The college education bubble is bursting. Students take out loans to get a degree for a job that shouldn't require one, and end up not making enough to pay it back. This new tool for Kansans won't fix that issue, but it can give us a hint of a financially sound route for a college education.
— Wes Crenshaw, Ph.D., ABPP, is author of "I Always Want to Be Where I'm Not: Successful Living with ADD & ADHD." Learn about his writing and practice at dr-wes.com. Gabe Magee is a Bishop Seabury Academy senior. Send your confidential 200-word question to ask@dr-wes.com. Double Take opinions and advice are not a substitute for psychological services.
Copyright 2018 The Lawrence Journal-World. All rights reserved. This material may not be published, broadcast, rewritten or redistributed. We strive to uphold our values for every story published.