Kansas Secretary of State Kris Kobach squared off Thursday in a debate with a Kansas University law professor over the pros and cons of restrictive voter identification laws.
Kobach, who was the architect of Kansas' 2011 law requiring voters to show photo ID at the polls and to show proof of U.S. citizenship to register, argued that such laws are needed to prevent voter fraud and protect the integrity of Kansas elections.
The two men debated before about 100 people, most of them law students, in a lecture auditorium at the KU School of Law in Green Hall. The debate was sponsored by the KU Federalist Society and the Hispanic-American Law Students Association.
"Election fraud occurs," Kobach said. And while the number of such cases may be tiny compared to the total number of ballots cast in any given election, he said it only takes a small number of votes to "steal" an otherwise close election.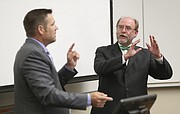 He said that from 1997 through 2010, the year before Kansas enacted the new restrictions, county election officials in Kansas reported more than 220 instances of suspected voter fraud.
One of the most notable cases, he said, occurred in 1997 during a ballot initiative in Seward County, in southwest Kansas, over the issue of allowing large-scale corporate hog farms in the county, which would supply hogs to a pork processing plant in nearby Guymon, Okla.
He said it was alleged that more than 50 Oklahoma residents who worked at the plant, including some believed to be non-U.S. citizens, attempted to register in Seward County to vote in that election.
But KU law professor Mark Johnson, who teaches courses in elections and campaign finance, argued that the small number of allegedly fraudulent votes does not justify denying other people the right to vote simply because they cannot produce a photo ID or proof of citizenship.
Johnson pointed out that there are more than half a million elected officials in the United States. In Kansas alone, he said, there are more than 3,800 local units of government, including county commissions, city governments, townships, school boards and a wide variety of special-purpose governments such as drainage districts and soil conservation districts, all of which have are governed by boards made up of multiple elected officials.
"And how many examples of voter fraud do you actually have?" Johnson asked. "We don't have many at all, and in some cases, none at all."
While the stated reason for enacting such laws is to prevent voter fraud, Johnson argued that they are most prevalent where state governments are controlled by Republicans, and he said there is a wide perception that their purpose is to suppress turnout among people who are more inclined to vote for Democrats.
The debate was disrupted only once by a protester, George Misdary of Lenexa, who shouted out after Kobach's presentation that Kobach's entire case was predicated on a few hundred suspected cases of voter fraud, spread out over 13 years.
"That's the thrust of your entire argument," said Misdary. "Wow, I was expecting a little more from you than that.
Misdary sat in the back of the lecture hall holding a sign that read "vote thief." He sat with a friend, Suezanne Bishop, a third-year law student, who held another sign that read "You're the Fraud."
Others in the audience were more reserved during the debate, although some asked equally pointed questions of Kobach, including one student who suggested the law is intended more to protect politicians than voters.
"Putting aside any of the political discussion of whether this favors one party or the other, why should I care more about the elected official who feels they lost their election for fraud than I do for the citizen who feels that their right to vote is burdened?" the student asked.
Kobach, however, argued that every fraudulent vote cancels out some other vote that was cast legally. Johnson, on the other hand, argued that it's hard enough convincing people that their votes matter, and that putting up barriers to voting only discourages them further.
Kansas lawmakers passed the Secure and Fair Elections, or SAFE Act, at Kobach's urging, in 2011. It was the first law enacted by any state that required both proof of citizenship for people to register to vote and photo ID at polling places to cast a ballot.
Several other states have enacted similar laws in recent years, and most have been the subject of intense litigation.
In 2005, the U.S. Supreme Court upheld an Indiana law that requires voters to show photo ID at the polls. But the legality of Kansas' proof-of-citizenship law for voter registration is still in doubt.
In 2013, the Supreme Court said that states must accept federal voter registration forms, which do not require proof of citizenship, at least for purposes of federal elections.
Since then, Kobach has implemented a system of "dual registration" that allows people who registered using the federal form to vote in federal elections. But he only allows people who register using the state form and who show proof of citizenship to vote in state and local elections.
That dual system is now the target of an American Civil Liberties Union lawsuit that is pending in Shawnee County District Court.
Copyright 2018 The Lawrence Journal-World. All rights reserved. This material may not be published, broadcast, rewritten or redistributed. We strive to uphold our values for every story published.