Gary M. Mitchell, a Prairie Band Potawatomi Nation tribal leader and former PBPN Gaming Commission chairman, died Friday in Topeka, the tribe said in a news release.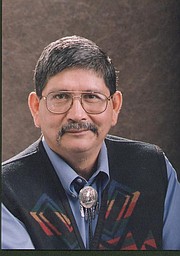 Mitchell, 63, graduated with a bachelor's degree in political science from Washburn University and a master's degree in history from Baker University, the release said. He served the tribal council for 18 years as treasurer, vice chairman and eventually chairman.
A lifelong reservation resident, Mitchell was an influential figure with Tribal-State gaming legislature in the 90s, the release said. He was also active in every phase of bringing gaming to the tribe and overseeing the casino's design.
Mitchell also spoke Potawatomi and dedicated his time to ensure the traditions and language of his people were maintained. Functioning as the tribe's historian, he penned historical narratives and founded the tribe's newspaper "Potawatomi News."
"He was a good man and a well-respected member of the community," said PBPN Tribal Council Chairperson Liana Onnen. "He understood the importance of preserving the culture, traditions and history of the Prairie Band Potawatomi people in a deeply profound way."
Copyright 2018 The Lawrence Journal-World. All rights reserved. This material may not be published, broadcast, rewritten or redistributed. We strive to uphold our values for every story published.