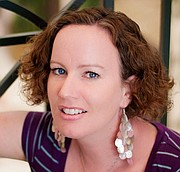 Lawrence school board member Kristie Adair is ready to make the switch to the Lawrence City Commission.
Adair has filed for a seat on the City Commission, and said she would resign the final two years of her school board term if she wins a seat on the commission.
"It is not something I would even consider," Adair said of trying to fill both positions. "I would be a servant to two masters, and that is not something I would want to do."
Adair, 41, said the City Commission seat would give her a chance to have more impact on economic development policy in the city. Adair is serving as the director of the Lawrence Center for Entrepreneurship, a new venture she is opening to provide office space, counseling and other services to area entrepreneurs.
"I really feel that Lawrence needs better economic opportunities," said Adair, who points to Lawrence employment totals that often lag other communities.
Adair also is a co-owner of Lawrence-based Wicked Broadband. Wicked currently is seeking a $300,000 loan guarantee from the city that would allow for a pilot project to bring high-speed gigabit Internet service to downtown.
Adair said she expects city commissioners to decide the loan guarantee issue in January. She said, if elected, she would recuse herself from other city deliberations regarding Wicked, which has several agreements that allow Wicked to operate on city rights-of-ways and other equipment.
In addition to economic development issues, Adair said she plans to discuss a variety of infrastructure topics, particularly how the city can become more pedestrian-friendly. She said she also plans to discuss the need for more diversity on the commission. A woman has not served on the Lawrence City Commission since Sue Hack left office in 2009. Adair, one of two women who has filed for a seat on the commission this election season, also is American Indian.
"Diverse organizations absolutely do better," Adair said. "The school board has a lot of good things going on, and I think one of the reasons is because we're a diverse group."
Adair is the ninth candidate to file for a seat on the commission. The others are David Crawford, a leader of a grassroots group to bring a grocery store downtown; City Commissioner Bob Schumm; Leslie Soden, the owner of a Lawrence pet sitting company; Stuart Boley, a retired IRS agent; Stan Rasmussen, an attorney for the U.S. Army; Matthew Herbert, a Lawrence High School government and civics teacher; Justin Priest, a Lawrence bus driver and leader of the local transit union; and Mike Anderson, the host of a cable television program.
Commissioners Mike Dever and Terry Riordan also have terms expiring in April, but they have not yet announced whether they plan to seek re-election. Candidates have until noon Jan. 27 to file for one of the three at-large seats. A March 3 primary will narrow the field to six candidates. The general election will be April 7.
Copyright 2018 The Lawrence Journal-World. All rights reserved. This material may not be published, broadcast, rewritten or redistributed. We strive to uphold our values for every story published.