Sometime after Marcel Harmon started having children, he figured he should get involved in schools.
With his kids, a boy and a girl, he had the personal connection. And as an applied anthropologist, who evaluates how humans interact with buildings and often works with schools, he had a background for it.
"I wanted my kids to see that I was involved in schools," he said.
Harmon's involvement started in 2009 with ad hoc advocacy groups and volunteer advisory boards for the district. By 2011, he was on a statewide council, the Kansas Next Generation Science Standard Review Committee.
That kind of resume got him appointed to the Lawrence school board last September after another member resigned. Six months later, his term is already expiring, and he's decided to come back for more and run against three opponents for the lone two-year term available in this spring's election.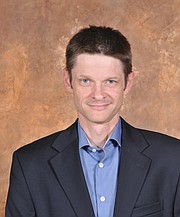 Marcel Harmon bio:
Address: 753 Lauren Street
Age: 46
Occupation: Applied anthropologist
Education: Bachelor's degree, Kansas State University; master's and doctorate, University of New Mexico
Family: Wife, Michelle, and two children
Education news
Have a story idea?
Contact Journal-World education reporter Elliot Hughes:
ehughes@ljworld.com
"What I'm really worried about in general is the cuts we're going to have to deal with from the state," said Harmon, who speaks in a quiet voice. "For my own kids, I'm worried about them from that standpoint as well."
Harmon, 46, is a native of Cheney, a town of about 2,000 people 30 miles west of Wichita. He was raised by two teachers, his dad a high school math teacher and his mom a grade-school librarian and social studies instructor.
He said their profession is "part of what defines me and my siblings." He gave little thought to being a teacher himself, however, and instead pursued a career in architectural engineering.
After earning a doctorate from the University of New Mexico, Harmon worked as an engineer for about 10 years, and schools were often a client of his. His family relocated to Lawrence about nine years ago, where a new job at M.E. Group allowed him to act less as an engineer and more as an anthropologist.
He said the district's $92.5 million bond issue that will build a new education center and, among other amenities, give every school in the district a facelift (some more extensive than others) is one reason he was drawn to the board in the first place. Construction for some of those projects will continue well into 2016.
Across the country, Harmon said, schools generally have too little space for certain activities or lack the furniture that allows for a range of them. He said the bond issue will reverse much of that and his expertise can help the district navigate through the endeavor.
"Before, they kind of made space work for what they needed and a lot of times it didn't work out very well or they were crammed into small areas," Harmon said of Lawrence classrooms. "Now they have a lot more space, a lot more flexibility."
He also wants to do what he can to protect school districts from taking a financial hit from the Legislature. He said that his membership in the science standards review committee introduced him to calling legislators and submitting written testimony in advocacy for schools.
"I think we're going to endure some cuts over the next year or two years, however I think there will be a shift, particularly when communities start seeing the cuts," Harmon said. "I'm hopeful there will be enough outcry that some of the decisions next session will be different.
"This session, unfortunately doesn't look too good."
He doesn't have many worries about the board in Lawrence. When asked if there were any actions or inactions over the recent years that he took issue with, he only replied with compliments for the "forward-thinking" district.
"I'm pretty happy from the education and the opportunities they've received from our district," he said, referring to his kids. "There isn't anything beyond the cuts that are coming that we're worried about."
---
More 2015 Lawrence school board election coverage
• Candidate profiles and questionnaires
Copyright 2018 The Lawrence Journal-World. All rights reserved. This material may not be published, broadcast, rewritten or redistributed. We strive to uphold our values for every story published.