For many incoming students at Kansas University, especially those who come from smaller rural communities, their freshman year can be their first experience being exposed to instructors and fellow students who come from different countries, cultures or races.
They shouldn't feel alone. Living and working in a culturally diverse environment can be challenging. But university officials say it can also be richly rewarding, and making it work right is the only way to ensure that all students, and all KU employees, are afforded equal opportunities.
That's the focus of E. Nathan Thomas III, who started last summer as KU's vice provost for diversity and equity.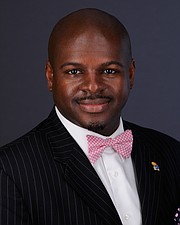 "It's important because of the economic impact that diversity can have on the state," Thomas said. "We have to think about the demographic shift that's happening in the state. It's our job to recruit, graduate and equip students so that employers and businesses will continue to come to Kansas, and so that students can work with a diverse group of employees."
Thomas came to KU from the University of South Florida Polytechnic, where he was the founding director of campus diversity. He is also a co-founder and partner at Invictus Human Capital Management, a Florida-based consulting firm that helps other organizations improve their performance through diversity, equity and inclusion.
At KU, Thomas said one of his top priorities is building what he calls "a climate around diversity."
"Climate deals with having a healthy culture," he said. "You think about, do people feel valued in their workspace."
Thomas said that's a concept that the university needs to apply to faculty and staff, as well as students.
This year, he said the university will conduct a climate survey among those groups that will include measuring thoughts on diversity at KU. Data collected from that survey will be used to identify issues that need to be addressed.
During a recent interview, though, Thomas acknowledged that KU could do better, especially when it comes to recruiting minority students from urban high schools in Kansas City, Topeka and Wichita.
To accomplish that, he said, KU needs to reach out more to those students early in their high school careers to encourage them to take the college prep courses they'll need.
He said KU needs to make sure it has support systems in place to help those students make the transition to college life once they arrive on campus.
According to Kansas Board of Regents statistics, the student body at KU in 2014 was about 71 percent white, 6 percent Hispanic or Latino, 4 percent black and 4 percent Asian. Roughly 10 percent were nonresident alien, or international, students.
KU Today 2015
Read about what's going with KU's campus and community, while also looking back at where it started 150 years ago, in an LJWorld.com special section: KU TODAY.
Copyright 2018 The Lawrence Journal-World. All rights reserved. This material may not be published, broadcast, rewritten or redistributed. We strive to uphold our values for every story published.