Two weeks after their final summer workout, Free State High's football players returned to the field just after sunrise for their first practice of the fall season.
The Firebirds split into position groups and worked in drills, practicing the fundamentals in both sessions of their two-a-day practices. Free State coach Bob Lisher said the Firebirds have about 58 players this season.
"We're generally around 60-62, so we're right at normal for us," Lisher said. "I think we've got about 42 freshmen out, which is the most we've ever had, so that's pretty good."
Last year, the Firebirds had an 8-4 record and earned a trip to the Class 6A state semifinals. Expectations remain high with plenty of familiar faces.
"I thought that we had a great summer for the most part," Lisher said. "It got a little slow toward the end."
Lawrence High's football team, which has about 95 players in the program, enters the season with about 18 returning starters and sky-high expectations.
Photo Gallery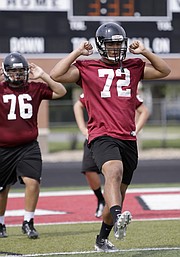 First day of fall high school sports
Athletes at both Lawrence High School and Free State High School launched into their 2015 seasons Monday, the first day practices were allowed for fall sports
"Man, I couldn't sleep last night," LHS senior JD Woods said. "I was up all night checking the time. But I'm excited to be back out knowing we have high expectations and a good group of guys returning. I'm excited to see what the season has for us."
A change this season is when teams can start practicing with full contact. Schools were only allowed helmets on Monday and will add shoulder pads without contact on Tuesday. They won't be able to tackle players to the ground until Friday.
Volleyball
Lawrence High volleyball coach Stephanie Magnuson recognized every face in the gym the first day of tryouts following a summer full of workouts.
About 50 girls showed up on Monday, which is about normal from past years.
"There wasn't a face at tryouts that I hadn't seen at some point during the summer," LHS coach Stephanie Magnuson said. "So that says a lot of the commitment of the kids."
The Lions opened their tryout for non-freshmen with a conditioning test on the track outside before moving into the gym.
First-year Free State coach Amy Hoffsommer had the first day of tryouts stretch a little longer than expected as coaches evaluated players in both the main and auxiliary gymnasiums.
"It's exciting. I'm really anxious to get started," Hoffsommer said. "It feels like it's almost a flow from the summer at this point because we haven't made the cuts yet (and) we're still dealing with where does everybody go? But it's fun. We're here. It's starting."
The Firebirds had 19 freshmen and about 35 more players at the first day of tryouts, which will lead to about a dozen cuts.
Boys soccer
At the beginning of Free State's boys soccer practice, loud beeping and a voice could be heard from the stadium's speakers.
Not an emergency test.
It was the conditioning test that more than 80 boys were going through in the steamy 90-degree weather. Coach Kelly Barah estimated 85-90 percent of them showed up during offseason workouts, but he will have to cut about 20 players.
"To look a kid in the eye and say we don't have room for you is always hard to do," Barah said. "It is very tough, especially with some of the kids who came in through and did the offseason conditioning and everything else."
Lawrence High's boys soccer team had a conditioning test with a 1.5 mile run, along with plenty of stations on the field including 1-on-1 and 2-on-1 drills.
The Lions had more than 60 players at Monday's tryout, most of whom showed up during the summer.
"It's such an advantage for us, as coaches, to know them," LHS coach Mike Murphy said. "That way when we come into this, we can do some fine-tuning and tweak things. We've only got nine practices until we play (Aug. 28) at Manhattan. … So the things we are doing out here are not just for tryouts but also for getting them skill-level ready for that first game."
Copyright 2018 The Lawrence Journal-World. All rights reserved. This material may not be published, broadcast, rewritten or redistributed. We strive to uphold our values for every story published.