There is a bit more than scores of basketball, volleyball and soccer games to keep an eye on at the city's new recreation center at Rock Chalk Park. City officials and architects also are keeping an eye on some cracking concrete in the 181,000-square-foot building.
Both architects and city officials said the building isn't suffering any structural problems, but a series of cracks have developed in the concrete mezzanine that overlooks the gymnasiums and turf field at Sports Pavilion Lawrence.
"We're aware of them, and basically we're monitoring them and seeing where they go," said Mark Hecker, the city's assistant director of parks and recreation.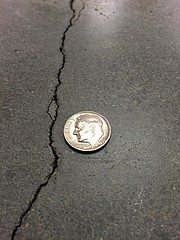 Hecker said the cracks aren't causing problems at the moment, but the city wants to ensure the cracks don't widen, or that concrete doesn't begin to chip off along the edges of the cracks. He said in addition to being unsightly, such problems could create tripping hazards in the highly travelled area of the building.
The Journal-World was alerted of the cracks by a frequent user of the facility, who said she was surprised to see so many cracks in the building after just six weeks of use by the public. There are upwards of 25 cracks in the mezzanine, with many of them running the width of the walkway.
Paul Werner, a Lawrence architect for the center, said members of the public should rest assured that the cracks aren't cause for any safety concerns. In an email he said the cracks are "shrinkage cracks." He said all concrete cracks, but often concrete jobs include cutting joints into the concrete to control where the cracking occurs. He said such cutting was planned on this project, but it did not happen because a "subcontractor did not realize this in time before the concrete fully hardened."
Hecker said the concrete work is under warranty for a year. He said the city would closely monitor the cracks during that time period to determine whether to request a repair under the warranty.
Hecker said, though, that any repair work likely would be disruptive to recreation center operations. The repairs likely would involve cutting out sections of concrete and replacing it with new concrete or epoxy.
"We're not overly concerned about the cracks as they are right now," Hecker said. "If we see where the concrete starts chipping away, that's when it will be a problem."
Werner said he agrees with the city's assessment.
Hecker said other issues the city has discovered since the building's opening have been minor. Problems with water infiltration that were reported in July have been fixed, he said.
"I'm pretty pleased with the attentiveness of our contractor," Hecker said of Lawrence-based Gene Fritzel Construction Co. "They have a crew hanging with us. If we need paint here, or there is a plumbing leak or a door that isn't quite working right, they have someone on site that is taking care of that for us."
City officials also continue to be very pleased with attendance at the center. League basketball play has begun at the center, and city officials have estimated crowds on Saturday morning number close to 2,000 people.
Copyright 2018 The Lawrence Journal-World. All rights reserved. This material may not be published, broadcast, rewritten or redistributed. We strive to uphold our values for every story published.