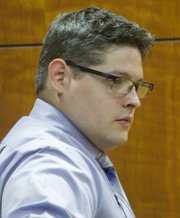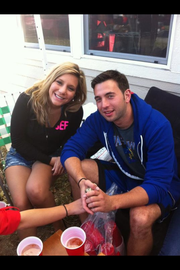 A second trial got underway Thursday in the case involving the violent death of a 27-year-old Lawrence man during a late night party in February 2012 in the Oread Neighborhood.
Justin P. Gonzalez, of Mission, is accused of hitting Nicholas Sardina over the head with a beer bottle during a house party near 14th and Kentucky. His first trial last year resulted in a mistrial when jurors were unable to arrive at a unanimous verdict.
At issue is whether Gonzalez acted recklessly by trying to stop Sardina from attacking another friend during the fight, as prosecutors allege, or whether he acted reasonably in trying to protect his friend from serious harm, or even death, as the defense contends.
Also at issue, based on questions asked during the jury selection process, may be whether Sardina's drug and alcohol use that night played a role in the events that followed.
The charges stem from an incident the night of Feb. 24, 2012, when Gonzalez and several friends from Bishop Miege High School threw a surprise going-away party for a friend who soon to leave for the military.
Defense attorney Sarah Swain said during opening arguments that the party was, for the most part, a low-key affair as the friends talked, drank beer from a keg and played cards. But one of the friends, Jake Anderson — who was known for having "liquid courage," according to Swain — became exceedingly drunk.
Hours into the party, another group of people arrived, including Sardina and some of his friends.
Much of what happened after that seems to be undisputed. Sardina and Anderson got into a verbal altercation that quickly turned physical. Sardina shoved Anderson into a wall and punched him in the head. Gonzalez then intervened by striking Sardina in the head with a beer bottle.
At first, Sardina did not appear to be seriously injured. According to defense attorney Swain, after the fight broke up, Gonzalez and Sardina shook hands. Sardina left and spent the night at a fraternity house in the 1600 block of Tennessee St.
Sardina was alive the next morning, a Saturday, when other friends at that house got up and prepared to attend the final basketball game between Kansas University and Missouri. He was found dead sometime later that day.
Melody Schrongar, who had dated Sardina off and on for two years before his death, testified she had come to visit him on Friday. They had dinner at a Massachusetts Street restaurant, then went to a bar for a few more drinks, then to his house near 9th and Mississippi where they talked and had still more drinks.
Over the course of about four hours, she said, she watched Sardina drink a martini, a Manhattan, two old fashioneds and, once back at his home, another two or three vodka cocktails. In addition, she said she watched him take two doses of a generic form of the anti-anxiety drug Xanax — one orally and another that he crushed up and snorted.
Swain said evidence would be presented of an autopsy showing that Sardina also had cocaine in his system when he died.
Sardina had served in the National Guard and spent three tours of duty in Iraq. Patrick LeSage, a friend of Sardina's, testified that he was aware Sardina had suffered effects from the blast of an improvised explosive device, or IED.
Under Kansas law, a person can be convicted of involuntary manslaughter for causing the death of another person through, among other things, recklessness or "during the commission of a lawful act in an unlawful manner."
But senior Assistant District Attorney Eve Kemple urged the jury not to focus on the drug and alcohol use.
"The only thing that caused his death was blunt force trauma," she said.
If convicted, Kansas sentencing guidelines provide for prison terms of between 114 and 128 months.
The trial is expected to last about two weeks, according to court officials.
Copyright 2018 The Lawrence Journal-World. All rights reserved. This material may not be published, broadcast, rewritten or redistributed. We strive to uphold our values for every story published.