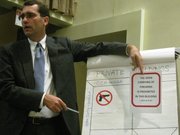 Topeka — Now that Kansas has expanded the right to carry guns both openly and concealed, officials are huddling to come up with signs that let people know what is allowed and where.
Attorney General Derek Schmidt on Wednesday convened a meeting of representatives of state and local governments, business interests and gun rights advocates who successfully pushed for firearms legislation.
"I have a vested interest in making sure the signage is appropriate," said Patricia Stoneking, president of the Kansas State Rifle Association.
The new law that takes effect July 1 bars cities and counties from regulating firearms and provides that the open carrying of guns is legal statewide.
But businesses, churches, schools and others still will be able to ban concealed and unconcealed guns from their premises if they post signs. The attorney general's office must say what goes on the signs.
Stoneking and others in the group brought together by Schmidt agreed that the simpler the signs, the better. "Our intent was never to have a half dozen signs," Stoneking said.
Generally, the group agreed that the current sign that prohibits concealed carry of guns — the red circle with a picture of a gun and a line drawn through it — should now be used to prohibit both concealed and open carry.
For a business that wants to allow concealed carry, but prohibit open carry, it will have to post a sign that reads "The open carrying of firearms is prohibited in this building."
The group agreed that putting those words within an octagon or Stop-sign shape might be more direct and easy to understand.
There was a lot of discussion about what kind of sign to use for businesses that want to allow open carry but not concealed carry. Stoneking said she doubted there would be many businesses in this category, but the group seemed to lean toward using the no concealed carry sign with verbiage on the sign that said open carry was allowed.
If there is no sign, then both open and concealed carry would be allowed.
Schmidt said he hoped to have regulations associated with the new law in place before July 1.
Copyright 2018 The Lawrence Journal-World. All rights reserved. This material may not be published, broadcast, rewritten or redistributed. We strive to uphold our values for every story published.