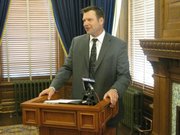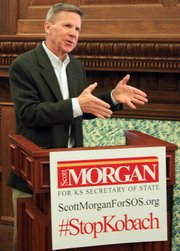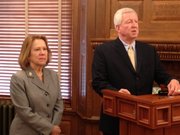 Topeka — Kansas Secretary of State Kris Kobach on Wednesday filed for re-election, saying he will continue to fight for state sovereignty and tougher voter fraud laws.
Kobach is seeking a second four-year term. He has spent his first term advocating in Kansas and other states nationwide for laws requiring photo ID to vote, proof of citizenship to register to vote, crackdowns on illegal immigration and nullification of federal laws dealing with guns and protecting the lesser prairie chicken.
His national profile on these controversial issues has become part of the campaign against him by candidates who say he doesn't spend enough time doing his state job.
During the campaign, Kobach will lose his Sunday radio show in Kansas City.
His Republican primary opponent, Scott Morgan, of Lawrence, refused Kobach's request to sign a waiver to the Federal Communications Commission equal time rule. The waiver would have allowed Kobach to continue his weekly, two-hour broadcast. The equal time rule states that a broadcast station that allows one candidate to broadcast must afford an equal opportunity to other candidates for that office.
Morgan explained why he wouldn't sign the waiver. "I had just announced my candidacy to unseat Mr. Kobach and one of the main reasons was that he didn't seem to want the job, and that he seemed much more interested in issues and jobs unrelated to what Kansans paid him to do," Morgan said.
"One of the first calls I get is from Mr. Kobach asking my permission to continue doing one of these very jobs that take him away from his duties as Secretary of State. It didn't make a lick of sense," Morgan said.
Kobach said Morgan's response was unfortunate because the call-in show allowed people to ask questions of a state elected official. Under the waiver to the equal time law, Kobach would have promised to refrain from mentioning the secretary of state campaign.
The intro to Kobach's show says, "When our values are under assault, when our sovereignty is invaded, when our constitution is in tatters, when political correctness is on the march, its time to mobilize! The war of ideas has begun with the Kris Kobach Show every Sunday night from 6 to 8 p.m. on KCMO."
Kobach will be taken off the air at least through the Aug. 5 primary.
On Wednesday, Kobach said of his critics, "What they really want is to return to a time when the secretary of state spent a lot of time on the golf course. I don't choose to spend my time golfing. I choose to spend my spare time fighting for state sovereignty."
He said an example of this was his advocacy during the past legislative session for a bill that declared the federal government had no right to enforce laws protecting the lesser prairie chicken in Kansas.
Kobach said the federal government's designation of the lesser prairie chicken as a threatened species would hurt the Kansas economy and threatened state sovereignty.
"The secretary of the state, more than any other official, other than the governor, is the guardian of state sovereignty," Kobach said.
Kobach also dismissed criticism of the Kansas law that he proposed requiring proof of citizenship to register to vote. The measure is tied up in litigation as the voter registrations of nearly 18,000 people in Kansas are on hold because they haven't provided the necessary documents to prove U.S. citizenship.
"All they have to do is from their couch tonight, is take their smart phones, take a picture of their birth certificate or passport. Email it in from their smart phone. Done," he said.
Kobach will face Morgan in the Republican Party primary.
Morgan is a former Lawrence school board president and chief of staff for Republican Gov. Mike Hayden in the 1980s.
Morgan also worked for former Kansas Republican sens. Bob Dole and Nancy Kassebaum. Morgan and his wife founded a publishing company in 1990 and sold it in 2007. He continues to edit publications and is an attorney.
Former state Sen. Jean Schodorf, of Wichita, is running for secretary of state as a Democrat after switching from the Republican Party.
Copyright 2018 The Lawrence Journal-World. All rights reserved. This material may not be published, broadcast, rewritten or redistributed. We strive to uphold our values for every story published.