Topeka — Gov. Sam Brownback on Tuesday unveiled a $9.5 million plan that he said would increase mental health services in Kansas.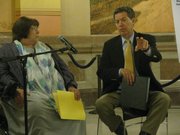 "I remain committed to strengthening and expanding access to timely, quality mental services and improving outcomes for all Kansans," Brownback said at a news conference attended by mental health advocates and top administration officials.
The plan includes:
— $7 million for programs aimed at helping families that are experiencing behavioral health issues;
— $1 million to Community Mental Health Centers to strengthen programs for the uninsured;
— $500,000 in community grants to help keep people with mental health problems out of jails, prisons and state hospitals;
— $500,000 for treatment facilities for those with substance abused disorders;
— $350,000 for a comprehensive review of behavioral health care costs and how funding is allocated;
— $150,000 to support 12 to 15 high-risk Kansas communities that would be aimed at developing and enhancing community coalitions in those areas, which have yet to be identified.
The funding is within currently available dollars, including $7 million in federal funds from a program called Temporary Assistance for Needy Families. The plan was released following the completion of a task force review of mental health services in Kansas.
Rick Cagan, executive director of the National Alliance on Mental Illness-Kansas, said Brownback's announcement represented a step forward.
"The attention to mental health is long overdue," said Cagan. He praised part of the governor's initiative that focuses on getting people with mental health conditions employment. "Employment is a strong path to recovery," Cagan said.
But Cagan said that to help the most people, the state should expand Medicaid eligibility under the federal Affordable Care Act. Kansas is one of 19 states not moving forward on Medicaid expansion. Currently in Kansas, parents cannot make more than $9,063 a year for a family of four to qualify for Medicaid, and in most cases, childless adults cannot qualify even if they have no income.
"There is a whole segment of the population that simply will not have access to quality mental health services without some kind of insurance coverage," Cagan said.
But under the Affordable Care Act, or Obamacare, states can expand Medicaid eligibility and the federal government will pay for it for three years, and pay no less than 90 percent of the cost after that.
Brownback has opposed the Affordable Care Act. On Tuesday, Brownback said more alternatives are needed to the ACA.
"I think there are going to be more options coming out. I think as this wears on, and people have difficulty with it, and the cost structure of it is so high, you'll see more options open up," Brownback said.
Brownback and other administration officials said they didn't know how many people will be helped under his announced changes.
Cagan said the changes would come nowhere near helping as many people as could be helped by expanding Medicaid.
According to a recent report, if Kansas expanded Medicaid under the ACA, 52,000 Kansas adults with serious mental health and substance abuse conditions would be eligible for coverage.
The report was released by the American Mental Health Counselors Association, an Alexandria, Va.-based group that includes more than 7,000 clinical mental health counselors.
Copyright 2018 The Lawrence Journal-World. All rights reserved. This material may not be published, broadcast, rewritten or redistributed. We strive to uphold our values for every story published.