In this week's column, I wanted to pay tribute to a personal Kansas City Connection: the marriage of my brother David and his brand-new bride, Kate Naramore, who were wed yesterday at the Shirk Barn in North Lawrence.
Kate and David first met in Lawrence, where they attended Kansas University, and they now live in Mission. To open this week's column, I thought it would be fun to ask Kate, a native Lawrencian, about some of her favorite Kansas City discoveries.
Kate says one of her favorite things about the area is exploring unique neighborhoods like Columbus Park, The Westside, Strawberry Hill and even the little places tucked away in Mission. She and David like to take their dog, Bailey, to the off-leash dog park at Shawnee Mission Lake, and she enjoys the city's many magnolia trees in the spring.
So far, the biggest drawback to KC living has been finding a grocery store combo that comes anywhere close to Lawrence's Checkers (for pretty much everything, at cheap prices) and The Merc (for specialty foods and a central location). Nonetheless, Kate says she's recently found herself recommending places in Kansas City with the same fervor she has for Larrytown standbys.
On Saturdays, there's hot polish sausage at Werner's (5736 Johnson Drive), or tacos and tamales at Bichelmeyer Meats, the meat market at 704 Cheyenne in Kansas City, Kan., owned and operated by our uncles Jim and Joe.
Before that, though, a big cup of coffee or fresh juice at the new Filling Station Coffee at 7420 Johnson Drive in Overland Park, or an early morning visit to the City Market, where Kate occasionally works the stand for Washington Creek Lavender of Lawrence.
For comfort food, Kate enjoys Pizza 51 West (5938 Mission Road), Thai Orchid in Mission (6504 Martway) or Hot Basil Thai in Overland Park (7528 W. 119th St.). For happy hour drinks, she "adores" the Jacobson (2050 Central, in the Crossroads), and for a low-key night at the pub, she recommends Breit's Stein and Deli (412 N. Fifth St. in KCK).
Kate and David are also fans of the Lyric Opera of Kansas City, which they regularly attend with my grandparents, occasionally followed up by a cocktail at Westport Cafe and Bar (419 Westport Road).
With that, I'd like to congratulate Kate and David and wish them a happy start to their lives together.
Summer outlook
Let's move on to a few suggestions for planning your own Kansas City summer of love.
As usual, summer is when Kansas City's concert offerings really sparkle. At the Sprint Center, highlights include Paul McCartney (July 16), Justin Timberlake (July 30 and 31), Miley Cyrus (rescheduled for Aug. 12) and Katy Perry (Aug. 19). Visit sprintcenter.com for ticket info.
At Crossroads KC, the outdoor venue behind Grinder's on 417 E. 18th St., performers include Vampire Weekend (June 2), Dark Star Orchestra (July 1), Panic! at the Disco (July 20), Jurassic 5 (July 23), and Ziggy Marley (Aug. 13). To see a full lineup, visit crossroadskc.com.
Starlight Theatre (kcstarlight.com), probably the city's finest outdoor venue, will host Styx and Foreigner (June 8), Widespread Panic with Galactic (June 25), Steely Dan (July 19) and Earth, Wind & Fire (Aug. 12), among many others.
The Uptown Theater (3700 Broadway, uptowntheater.com), will feature The Monkees (June 4), Lauryn Hill (June 16), Jackson Browne (July 3) and Nickel Creek (Aug. 19). Downtown, The Midland (MidlandKC.com) will host Nick Cave & The Bad Seeds (June 18) and Tori Amos (Aug. 2).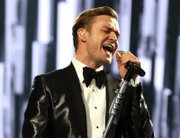 On June 10 and 11, The Kansas City Symphony will join popular pianist/songwriter Ben Folds for a special performance at the Kauffman Center for the Performing Arts. The Symphony will also perform its "Pops in the Park" concert on Sept. 1 at Shawnee Mission Park.
Onstage, Starlight Theatre will present "The Wizard of Oz" (June 10-15), "Joseph and the Amazing Technicolor Dreamcoat" (July 8-13) and "The Sound of Music" (July 25-31).
The Sprint Center will host a new production of "Jesus Christ Superstar" on July 2, and the annual Heart of America Shakespeare Festival will present "The Winter's Tale" from June 17 through July 6 in Southmoreland Park.
Among the many festivals worth checking out are the inaugural "Boulevardia" beer/food/music event in the West Bottoms (June 13-15, boulevardia.com), Jazz in the Woods (June 20 and 21, Corporate Woods), Riverfest at Berkley Park on July 4, which includes the city's largest fireworks display, and the KC Fringe Festival (July 17-27, kcfringe.org).
Other summer highlights include the Great Midwest Balloon Festival (Aug. 8-10 at the Kansas Speedway), the delightful Ethnic Enrichment Festival (Aug. 15-17, Swope Park), and the Kansas City Irish Fest (Aug. 29-31, Crown Center).
Be sure to check this column each week for a more detailed look at these and many other events, and have a safe and happy Memorial Day weekend.
Copyright 2017 The Lawrence Journal-World. All rights reserved. This material may not be published, broadcast, rewritten or redistributed. We strive to uphold our values for every story published.