Wes Benjamin's junior season was right on track.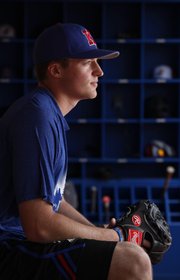 NCAA fate
Kansas — and the rest of the NCAA Tournament hopefuls — will learn their fate at 11 a.m. Monday. The selection show will air on ESPNU, available locally on WOW! Cable channels 35 and 235.
-->
-->
Kansas University's No. 1 starting pitcher had a 4-0 record to his name, highlighted by a near complete game at Texas in which he struck out four in a Jayhawks win. The 2014 MLB Draft was a little more than two months away, and Benjamin, a lefty out of St. Charles, Illinois, projected as a third- to seventh-round pick.
Then his left forearm started feeling sore. A little inflammation. No big deal.
Or so he thought.
Benjamin had thrown 2 and 2/3 innings against Oklahoma on March 28, when a foreign pain appeared in his forearm again, near his elbow. He knew something was wrong, but there had been no snap or pop on his last pitch.
"You hear horror stories," Benjamin said of pitching injuries. "It wasn't anything like that for me. I had soreness leading up to that game, and knew I wasn't gonna be feeling my best, so it was kind of masked a little bit."
He left the mound and had an MRI scheduled.
"It was kind of a burning sensation," Benjamin remembered. "The only problem was it just wouldn't go away."
Test results revealed a torn ulnar collateral ligament, which meant the three words no pitcher wants to hear: Tommy John surgery.
April 10, 2014 — "I'll be remembering it for a long time now," Benjamin said of the date he had the successful procedure. It's the day he began a long journey into the unknown.
What now?
Benjamin, drafted in the 48th round of the 2011 MLB Draft out of high school by the New York Yankees, was KU's top pro prospect this year. That hasn't changed.
Before the season began, Baseball America ranked him as the No. 12 future pro in the Big 12.
In a recent entry in the imperfect science of draft predictions, PerfectGame.org ranked the 6-foot-1, 188-pound left-hander as the No. 307 overall prospect (including high school seniors, junior-college players and college seniors) for the 30-team draft.
With a rehab plan that aims to get Benjamin's arm back to normal nine to 12 months after his April surgery, being ready for the beginning of next season wouldn't be reasonable. That makes his future more murky, because there are so many yet-undiscovered variables, including the timing of the progress he makes with the appendage that got him noticed.
Will he get drafted high enough to sign? Will he return for another year at Kansas? Benjamin, at least for now, just doesn't know.
"It's gonna depend on a lot of things," he said. "Hopefully a team's still looking at me with interest and would like to pick me up. If not, I've got a great thing going for me here. As long as I get healthy and get back to the sport I love, that's all that matters."
One way or another, baseball will remain a major focus in his life.
KU pitching coach Ryan Graves isn't counting on Benjamin being back in the rotation in 2015. It makes more sense for the one-time staff ace to sign with whatever organization drafts him. Graves said Benjamin should still have a chance to make a decent amount of money in this year's draft, because he impressed enough scouts before his season-ending injury. If he were to return to Kansas and play his senior year, some team would sign him for a major discount.
In a recent Forbes report, it cited a study that showed a total of 57 college seniors were drafted in the first 10 rounds of the 2013 draft, and they signed on average for 19.77 percent of the recommended amount at their respective slots. Essentially, college seniors have no leverage, because they have no place else to go.
"Even though I'd love to have him back," Graves said, "I think it's the best situation for him to try to go out, get an organization, rehab with them and get his pro career going."
New role
Of course, Graves wishes the Jayhawks (34-24) still had Benjamin as an option entering the 2014 NCAA Tournament. The field will be announced Monday, and Kansas figures to make its first trip since 2009.
But the pitching coach said the staff's only lefty has made the best of his situation. A starter for two-plus seasons at Kansas, now Benjamin is part-coach, part-cheerleader in the dugout.
"It's always good to have an extra set of eyes," Graves said. "He's got a lot of experience at this level."
On game days, Benjamin still puts on his uniform. He does what rehab he can, then is back on the field or in the bullpen with his teammates. Whether he's charting pitches or just observing, he tries not to bother KU's pitchers too much during games, but he'll occasionally ask what they're seeing and shares his observations.
Senior pitcher Frank Duncan praised Benjamin for taking on a new, far-less-exciting role amid his rehab.
"He's been a huge source," Duncan said. "If any of the young guys need some advice on what they're doing, they can go talk to Wes, and the older guys, too."
Senior starter Jordan Piché agreed, adding it was tough to see such a great team-first guy go down.
"I think a lot of guys could check themselves out if they had an injury and not be a part of the team," said Piché, who replaced Benjamin in the rotation. "But he's been the opposite."
Even with the mystery swirling around his future, Benjamin would love to see his KU teammates put together a run in the NCAAs. What better way to keep his mind off the first 10 rounds of the draft (June 5 and 6)?
"Then I'll know exactly what I'm doing," Benjamin said, with a smile. "That's all I need to get through."
Copyright 2018 The Lawrence Journal-World. All rights reserved. This material may not be published, broadcast, rewritten or redistributed. We strive to uphold our values for every story published.