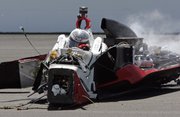 Seldom has a man ever sounded so grateful to be nursing a fractured left wrist, three broken hand bones, a fractured right elbow, an injured knee ligament and a concussion, as Eudora's Chase Austin sounded Saturday afternoon on the ride back from Indianapolis.
"It definitely could have been a lot worse," Austin said by phone from the back of the family RV in which he rode with parents Steve and Marianne Austin. "A lot worse has happened at that track, and I came out pretty unscathed."
Austin's crash Friday came in the Indy Lights race at Indianapolis Motor Speedway. The video shows debris strewn about the track after he slammed into the inside wall between Turns 1 and 2 on Lap 16 of the Freedom 100. In a race in which the cars travel at 200 mph, Austin crashed into the tires placed in front of the inside wall to soften the blow.
Austin was transported to nearby Methodist Hospital, underwent surgery about 5 p.m. Friday and was released about midnight, according to his mother.
Looking back on the incident, Austin, 24, recounted what he felt.
"My thighs and quads were killing me," he said. "I'm not sure if the shift hit my knees, but it sent huge vibrations, and I remember my legs were absolutely killing me. Obviously, my body went into shock. My wrist, I couldn't move it, so I figured it was broken or severely sprained."
Austin said he experienced swelling behind his right knee and was wearing a soft cast on it. He said he also was wearing a splint on his left hand, but no molded cast.
His mother was in the pits, watching on a monitor, when her world temporarily took a turn no mother ever wants it to take.
"I didn't know if he was OK for quite some while," Marianne said. "God had his hand on him. You are always prepared for that somewhere in the back of your mind. You don't think about it, but it's always there. When I close my eyes and go to sleep, I still see it."
Gradually, a mother's fear is giving way to pride.
"We're thankful he's all right," Marianne said. "He's still going to race. It didn't take the spirit out of him. He's such a good kid. He's been himself through it all."
Asked if the crash had given him any second thoughts, Chase quickly answered, "Oh, no, no, no, no. I love racing just as much as I always have. Certainly that genre of it I'm not a big fan of. That was going to be my last open-wheel race anyway. It just goes to show you, guys who go faster than I was going, get into wicked crashes, have multiple broken bones and get back out there, they're doing what they love to do. It definitely make me respect the guys who can do that."
Austin said he always has preferred racing stock cars.
"Once I get my hand healed up, I'll be racing dirt-modified, and then there's NASCAR. I'm still trying to make that happen," he said. "I've taken other hard hits, but open-wheel's just not for me."
He said he has received from doctors estimates of from six to nine weeks for the healing process to run its course.
"And I talked to one boxer who said he was back in the ring a month-and-a-half later," Austin said, sounding excited to learn that.
His mother expressed gratitude the accident occurred where it did.
"Fortunately, Indianapolis is motor racing's medical capital of the United States," Marianne said. "The hand specialist is one of the best surgeons in the world."
For now, the Austins are happy to be back in Eudora, their passion for high-speed racing untainted.
Copyright 2018 The Lawrence Journal-World. All rights reserved. This material may not be published, broadcast, rewritten or redistributed. We strive to uphold our values for every story published.