Pop, soda, soft drink — no matter what you call it, there's a new abundance of it on Mass. Street. Mass Street Soda opened last month, and it is truly refreshing the popularity of this carbonated beverage. With over 1,000 varieties of soda, it's set up to satisfy almost any taste.
I've been to this soda shop a few times now, and still can't get over the impressive amount of flavors and brands that can be found here. At $2 a bottle, you can buy sodas as singles or multiple (a 12-pack for $22 or a 24-pack for $42), and you can mix and match as you please!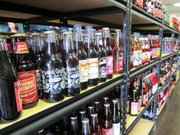 It's the perfect arrangement because the commitment is low and the curiosity is high; if you pick one because it has a pretty bottle (yes, that would be me), and it isn't to your liking, you're only out one soda.
With my family in town last weekend, we stopped in Mass Street Soda, 1103 Massachusetts St. Only intending to browse — and maybe pick up a bottle or two — we ultimately walked out with a dozen. The endless flavors — everything from root beer to chocolate-bacon — and colorful label designs were too enticing to pass up!
My parents were pretty tickled to find sarsaparilla soda (which they had seen in the Western shows they used to watch), and I enjoyed finding the odd flavors and unique bottles around the shop.
While the sodas aren't previously cooled in the store, you can certainly get them chilled as you check out. Mass Street Soda has a gadget that can chill your soda in just 2 minutes!
A few other details to note: they recently created a free iPhone app to rank your favorite varieties (ideal for avoiding frustration when returning to buy more). They also offer gift cards.
One of our favorite brands so far is Capt'n Eli's — they have a rockin' blueberry pop, and the orange is equally as tasty. Also, on my recent visit, I was intrigued by the "Frizz Coffee" soda that came in a small 6-ounce bottle. It was simply delicious (four ingredients: carbonated water, sugar, coffee and caramel coloring), and would be excellent with ice cream. Speaking of which, there eventually will be seating and ice cream to make floats at the shop.
Mass Street Soda is a fun way to explore tastes and appreciate pop. What's more, it has added a sweet nostalgic feel to Mass. Street Have you noticed? Seeing folks strolling downtown as they enjoy a cool bottle of soda is nothing short of serendipitous.
— Jessica Pauly, aka Mrs. Mass., gives her thoughts on shopping, urban living and what's new in Lawrence in CheckOut weekly and on her blog, mrsmass.com.
Copyright 2018 The Lawrence Journal-World. All rights reserved. This material may not be published, broadcast, rewritten or redistributed. We strive to uphold our values for every story published.