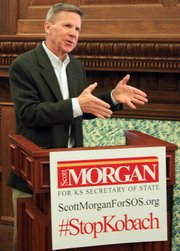 TOPEKA — Scott Morgan, of Lawrence, filed Wednesday to challenge Kansas Secretary of State Kris Kobach in the Republican primary, saying he wants to restore sanity to the office and stand up to what he calls "bully" tactics.
Morgan said residents were frustrated by the conservative Kobach's performance, suggesting he was neither interested in the job "nor very good at it." However, Morgan said he realized Kobach had support in Kansas and any challenge would be difficult.
"I'm not delusional," Morgan said.
Morgan, 56, is a former school board president and chief of staff for Republican Gov. Mike Hayden in the 1980s. Morgan also worked for former Kansas Republican Sens. Bob Dole and Nancy Kassebaum and ran for Congress in 1990. Morgan and his wife founded a publishing company in 1990 and sold it in 2007. He continues to edit publications and is an attorney.
Kobach is seeking a second term and plans to file for re-election May 28. He has taken strong positions in Kansas and other states on election laws and immigration issues, and is currently embroiled in federal litigation over Kansas laws requiring proof of citizenship from people registering to vote.
"I welcome him to the race. I appreciate the opportunity to try to make the case to Republican voters again," Kobach said. "I'm confident that Kansans appreciate the photo ID and proof of citizenship laws."
Morgan said Kobach wasn't serving the office or Kansas residents by pursuing his agenda. He cited new state laws for voter registration that Morgan said suggested Republicans were afraid to allow new voters in the system and competition.
"This is not who we are as Kansans or Republicans," Morgan said. "Frankly, he's become a bully."
Kobach said the voting law changes were passed by large bipartisan majorities and were working to make elections secure.
"That word doesn't even make sense. I don't understand what he means by using that word," Kobach said. "Clearly, the Legislature was not bullied in to passing them."
Former state senator Jean Schodorf, of Wichita, is running for secretary of state as a Democrat after switching her affiliation from the Republican party.
Copyright 2018 The Associated Press. All rights reserved. This material may not be published, broadcast, rewritten or redistributed. We strive to uphold our values for every story published.