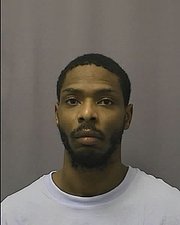 The 17-year-old son of the Lawrence man shot dead in their home in March said Tuesday that two men kicked in their door and asked "Where is it? Where is it?" before one of them shot his father, Patrick Roberts, 39.
Roberts' son, Michael Roberts, was one of seven witnesses called to testify against Dustin D. Walker, 29, who is charged with first-degree murder and aggravated burglary in connection with Patrick Roberts' March 8 death. Michael Roberts said Tuesday that one of the men pointed a gun at him, then walked into his father's room, where the father told the men he didn't know what they were talking about.
"I heard a gunshot," the son said Tuesday.
Michael Roberts identified Walker as the shooter in court. District Judge Paula Martin bound Walker over for trial, setting a June 19 arraignment. Family and friends of both Roberts and Walker attended Tuesday's hearing, sitting on opposite sides of the courtroom.
Roberts shared a home in the 2400 block of Cedarwood Avenue with the son, a brother and his mother.
The brother, Wayne Roberts said that after Patrick Roberts was shot, Patrick helped fend off the second man as Wayne struggled for control over the gun. Wayne Roberts said the two men joined a third who had remained outside and fled on foot after the shooter lost control of his gun.
Roberts died from internal bleeding after a gunshot to the abdomen struck several organs, according to a coroner's testimony.
Wayne Roberts said his brother sold marijuana from his room, and a Lawrence detective, Zachariah Thomas, said investigators found two glass jars containing marijuana in a safe in the room.
Also Tuesday, another detective, Jamie Lawson, said the handgun found at Patrick Roberts' home was purchased from a pawnshop in February by Walker's girlfriend. Though testing for Walker's DNA on the gun was inconclusive, Thomas said that KBI lab reports revealed his DNA was on a baseball hat left behind and that large amounts of Roberts' blood was on Walker's jeans.
Lawson interviewed Walker after his arrest and testified that Walker told him he knew Roberts and had walked from Club Magic to Roberts' home to smoke marijuana that night. Lawson said Walker told him he awoke to a struggle but didn't specify who or how many were involved in the struggle. Walker was not forthcoming in the interview and provided vague answers, Lawson said. Upon learning Roberts died, Walker refused to talk further, Lawson said.
Copyright 2018 The Lawrence Journal-World. All rights reserved. This material may not be published, broadcast, rewritten or redistributed. We strive to uphold our values for every story published.