Contact KU and higher ed reporter Sara Shepherd
Have a tip or story idea?
---
More stories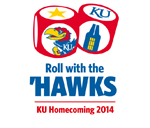 Kansas University's 102nd homecoming celebration will feature a board game theme and a downtown Lawrence parade.
The logo for this year's homecoming theme, dubbed "Roll with the 'Hawks," incorporates round-corner dice such as those used in Boggle and other board games but with KU icons —the Jayhawk and Campanile — printed on the sides.
Paige Hofer, student programs coordinator for the KU Alumni Association, which along with a student-led steering committee organizes homecoming, said the committee chose the theme hoping it would appeal to both KU students and alumni.
Participants can incorporate the theme into homecoming parade floats and other activities from that week, which will include a live, campus-wide version of the game Clue.
The tradition of giving homecoming a theme goes back to 1956 and adds some order to decorations, games and the parade. Past themes include "'Hawks on Haunted Hill" (2005), "A 'Hawk Odyssey" (2001), "'Hawks Go Hawaiian" (1985), "Jayhawk Rebellion" (1975) and "Jayhawk Laugh-in" (1968).
Homecoming is scheduled for the week of Sept. 21-27, culminating in the homecoming game between KU and University of Texas at Memorial Stadium on Sept. 27. The parade will take place on Massachusetts Street at 6 p.m. Sept. 26. This will be the second consecutive year, and the second since 1990, that the parade is held downtown.
Copyright 2018 The Lawrence Journal-World. All rights reserved. This material may not be published, broadcast, rewritten or redistributed. We strive to uphold our values for every story published.