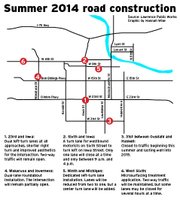 By the time this summer's road construction season is over, local motorists may well hate corn, Hawkeyes and caucuses. It is going to be that type of summer for all things related to Iowa.

The unofficial beginning of Lawrence's summer construction season is Monday — the day after Kansas University's graduation ceremonies — and much of this year's pain will be found on Iowa Street.
City engineers are quick to point out that there will be much progress there, too.
"It is a priority in this community to improve the condition of our streets and the condition of our pavements," City Engineer David Cronin said. "We'll be working really hard to do that."
Motorists will be most likely to notice that work — and probably some pretty long lines of vehicles during rush hour — at 23rd and Iowa streets. Crews will begin rebuilding the city's busiest intersection on Monday, and work is expected to last until mid-November.
In addition to the 23rd and Iowa project, crews will be making major improvements to Sixth and Iowa streets, although that work is expected to be completed in September. The South Lawrence Trafficway also is expected to close a major portion of 31st Street for multiple months, which is expected to put more pressure on 23rd and Iowa streets for motorists looking to travel to the popular South Iowa Street shopping corridor.
"We're asking motorists to be patient, slow down in work zones, and think about whether there are alternate routes they can take," Cronin said.
Here's a look at some of the larger projects:
• 23rd and Iowa: The good news is that one lane in all directions will be open at all times. The bad news is that a lot of traffic has to make it through those lanes.
The intersection carries about 60,000 vehicles per day, Cronin said. That's quite a bit more than what travels throughout he intersection of 23rd and Louisiana streets, and motorists recently have seen how far traffic backs up when lanes are reduced at that intersection.
Cronin expects delays, especially during morning and evening rush hours. But he said the city has worked hard to minimize the impact. The contractor is being required to construct the project in seven phases so that two-way traffic is always open, and also that left and right turns are open throughout the project.
Cronin thinks the approximately $3.7 million project will deliver major payoffs to motorists. They include: dual left-turn lanes at all approaches, which should reduce the time motorists have to wait to make a turn; shorter right turn lanes that are designed to slow down right turns and improve the safety of merging vehicles; and improved aesthetics for the intersection.
"The green concrete medians are going to go away," Cronin said.
They'll be replaced by stamped and colored concrete designed to look like brick.
• Sixth and Iowa streets: The first motorists to notice work here likely will be those trying to take McDonald Drive to the West Lawrence interchange on the Kansas Turnpike.
The tunnels below Sixth and Iowa streets that lead to McDonald Drive and the turnpike are scheduled to be closed on Monday. The tunnels will be closed for six weeks while work to strengthen and extend them is underway. Motorists will be asked to use the turnpike interchange in North Lawrence, although the West Lawrence interchange will be open and several neighborhood streets will allow motorists to access McDonald Drive.
The work on Sixth Street will be in full swing in a few weeks, but the city is requiring contractors to make several accommodations for motorists. Contractors will be allowed to close only one lane at the intersection, and between 9 a.m. and 4 p.m. Cronin said it was important that the intersection be fully open during morning and evening rush hours.
The $1.9 million project will add, among other elements, a turn lane for westbound motorists on Sixth Street to turn left onto Iowa Street. Currently, there is no turn lane and through traffic often stacks up behind a motorist who has stopped to turn left.
• South Lawrence Trafficway: The latest news from the Kansas Department of Transportation is that 31st Street between Ousdahl and Haskell will be closed beginning this summer and lasting well into 2015. The portion of 31st Street between Ousdahl and Louisiana is expected to close in June, according to information KDOT provided to the city. The portion of 31st between Louisiana and Haskell is expected to close in July.
One piece of good news for motorists is that Haskell Avenue, currently closed to through traffic north of 31st Street, is expected to fully reopen in July. At that point, work will shift to Louisiana Street. Louisiana Street south of 31st Street will be closed. Louisiana north of 31st will remain open, but Louisiana motorists will have no access to 31st Street.
The closure of 31st Street is expected to cause significant changes in traffic patterns, especially for motorists from the east who are trying to get to South Iowa Street. Using 23rd and Iowa streets would be a direct route, but construction at 23rd and Iowa will make that difficult. That could increase traffic on neighborhood streets like 27th Street, and Cronin said some motorists may even use county roads, such as County Route 458 south of the city limits, to access the popular shopping area.
Cronin said he hopes work on 31st Street, which is being moved to the south as part of the SLT project, will be done by summer 2015, but he said KDOT hasn't yet finalized time schedules for the project.
• Wakarusa and Inverness/Legends Drive: The debate already has created some tension. Now we'll see if the construction of the city's first dual-lane roundabout creates headaches for motorists.
Work is expected to begin this summer at Wakarusa and Inverness/Legends Drive, but specific timelines haven't yet been developed because the project is still being designed. Cronin, however, said work likely will last until late fall.
The intersection will remain partly open throughout the project. Cronin said work first will begin on the east half of the intersection, meaning all traffic will be shifted to the west side. During that time period, turning movements on to or off of Inverness Drive will be prohibited. When that half of the project is completed, work will shift to the west side, during which time turning movements on to or off of Legends Drive will be prohibited. A detour through the Oread business park will be provided for motorists who need to access businesses on Legends Drive.
The roundabout will replace four-way stop signs at the intersection. In addition to the roundabout, the project will rebuild the section of road immediately south of the intersection, which shows significant signs of deterioration. City engineers recommended the roundabout to handle expected future traffic demands, although several neighbors spoke against the idea.
• Ninth and Michigan streets: Many a Lawrence motorist has popped over the hill at Ninth and Emory streets only to slam on the brakes to avoid hitting a vehicle waiting to turn left at Ninth and Michigan. The intersection is at the base of the hill, and currently it does not have a dedicated left-turn lane.
Cronin said the intersection will be repaved and re-striped this summer. The number of through lanes will be reduced from two to one, but a center turn lane will be added.
An exact start date hasn't been determined.
"But we definitely want to get the project done before football season, because that produces a lot of traffic at the intersection," Cronin said.
• West Sixth Street: Motorist should expect periodic delays on the stretch of Sixth between Folks Road and the Kansas Highway 10 interchange. Crews will apply a microsurfacing treatment to seal the street. Cronin said two-way traffic will be maintained throughout the project, but some lanes may be closed for several hours at a time while crews apply the treatment and allow it to dry.
• Several smaller maintenance projects may create delays. Among the more significant repaving projects will one along 19th Street from Haskell to Harper. Work then will continue along Harper from 19th to 23rd streets. Vermont Street from Sixth to 11th streets also is scheduled to be repaved shortly before the library opens July 26.
Copyright 2018 The Lawrence Journal-World. All rights reserved. This material may not be published, broadcast, rewritten or redistributed. We strive to uphold our values for every story published.